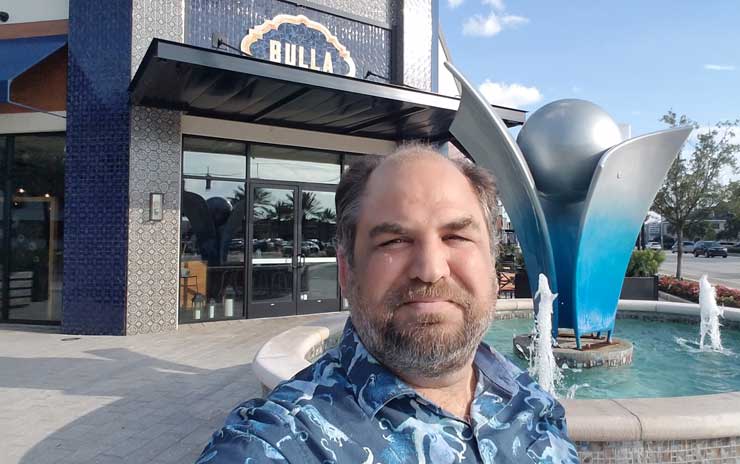 100 restaurants, one month, delicious dishes and great meals means only one thing Orlando's Magical Dining Month is back. Beginning August 24th, and running through the end of September some of Central Florida's best chefs have created a special menu that provides a taste of what the restaurant has to offer for just $35.
When you dine out at at Magical Dining restaurant you're also giving back to children. A dollar from every meal served during Magical Dining Month is donated to children in need. This year, the program will help children affected by intellectual and developmental disabilities, though donations to Best Buddies and The Down Syndrome Association of Central Florida.
Best Buddies creates opportunities for inclusion and one-to-one friendships for people with intellectual and developmental disabilities. Diners participating in Visit Orlando's Magical Dining Month will help expand the program, which is most often found in high schools, into middle schools.
The Down Syndrome Association offers support for those with Down syndrome and their families. Diners participating in Visit Orlando's Magical Dining Month will help create funds for families in crisis, medical needs not covered by insurance, and therapy scholarship programs.
The Disney Blog was invited, along with other members of the media, to a preview dinner for Magical Dining Month. There are a ton of great restaurants located in and around Walt Disney World. But choices for the media preview were more limited. I ended up attending the one a Bulla Gastrobar in Winter Park, FL located not too far from a special moment in Disney World history.
On February 2, 1967 journalists and gov't officials saw a movie introducing the original idea of EPCOT at the Park West movie theater in Winter Park on Lee Rd and Orlando Blvd. This was Walt Disney's final movie. He had died on December 15, 1966 before he could share his plans for EPCOT with the world in person. The idea of EPCOT later became Walt Disney World. The Park West theater is now an LA Fitness location.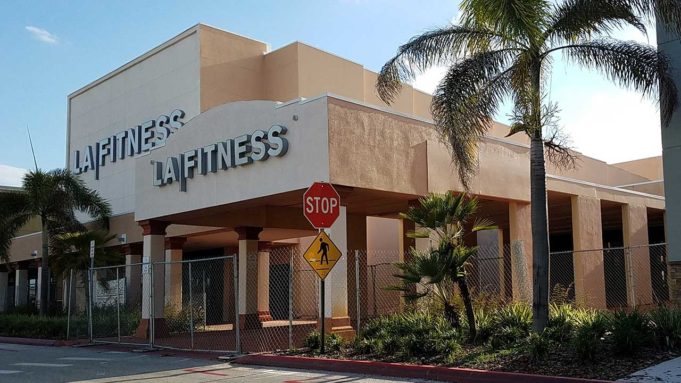 Bulla Gastrobar focuses on Spanish and Portuguese cuisine with the atmosphere of fun, casual location for family or friends. There were a couple of birthday parties the night we went.
At Bulla the Magical Dining meal includes one appetizer, one entree, and one dessert. Diners are encouraged to share tapas style with others at the table. They're also able to accommodate vegetarians, vegans, and those with food allergies.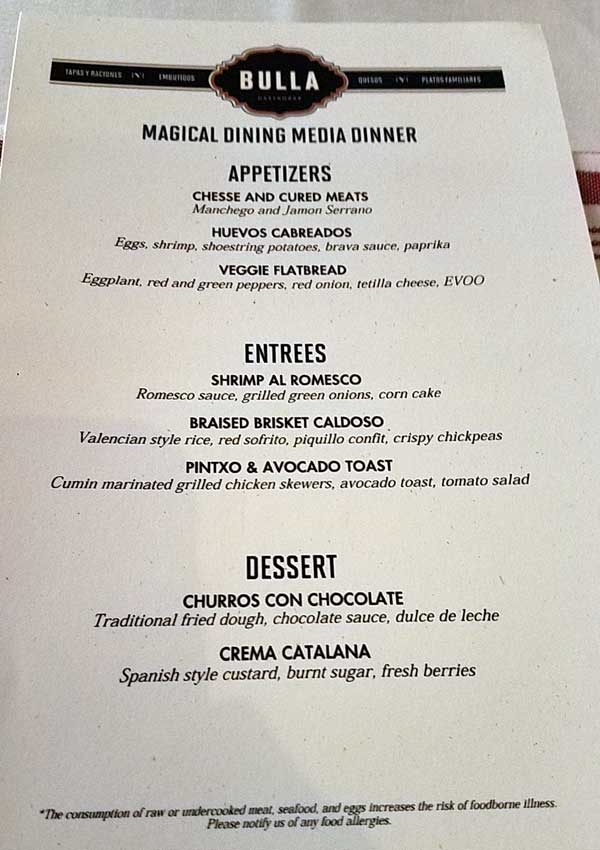 The restaurant manager recommended combining Bulla's Happy Hour, which takes place every day from 4 to 7 pm. Half-price wine pours and well drinks with your Magical Dining options is definitely a great value.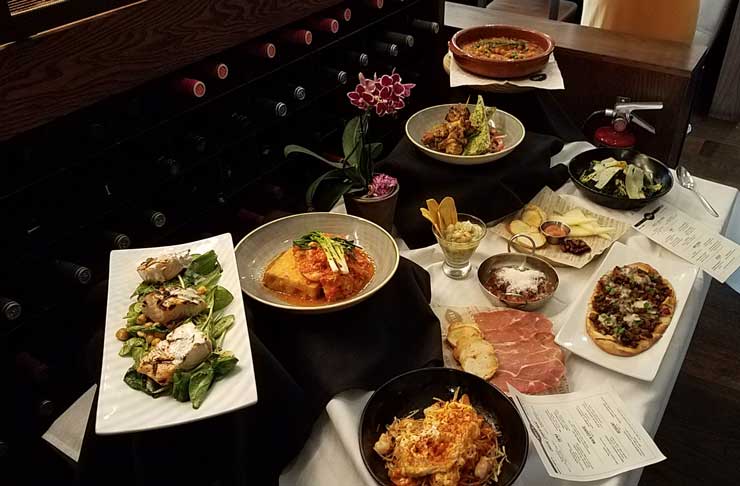 At the media preview, our table was brought a little bit of everything. Consensus highlights include the Veggie flatbread which was stacked with sweet eggplant, red and green peppers, and red onion in a brown sugar and vinegar sauce. The table greatly enjoyed the Shrimp Al Romesco and Braised Brisket Caldoso entrees and it was impossible to pick a winner between the Churros and Crema Catalana. The churros were served with dulce de leche and chocolate dipping causes while the crema catalana is a Spanish take on the french creme brulee, although they claim their dish was first.
While you can attend as a single diner, Bulla Gastrobar is definitely best enjoyed with family and friends. Order a variety of dishes and try a bit of everything.
Check out the menus online, then make reservations for the restaurants you've been wanting to try. When you arrive at the restaurant to check in, remember to mention that you would like to see the Magical Dining menu.