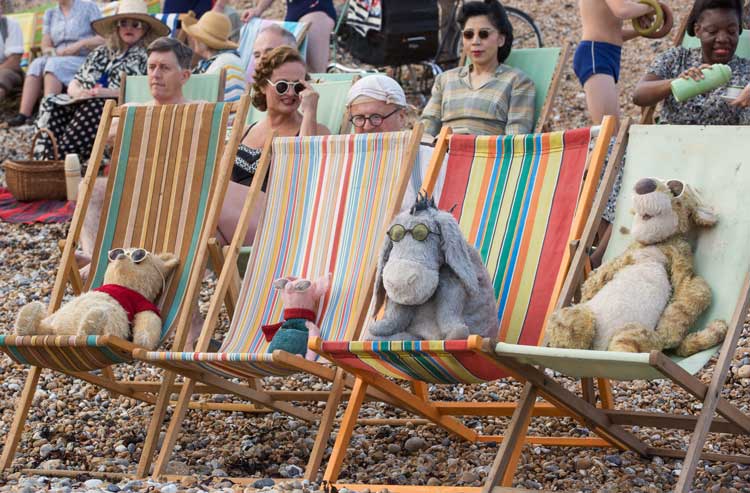 I hope you were able to catch some sun this weekend, because Disney fans everywhere will be spending a lot of time in the dark watching the next movie from Walt Disney Studios – Disney's "Christopher Robin." The film promises to be a heartwarming live-action adventure featuring Christopher Robin as a grownup who has lost his way in the world. He is brought back to the Hundred Acre Wood by his childhood toy Winnie The Pooh.
The Walt Disney Studios has released a set of four character posters from the upcoming Disney's "Christopher Robin" (originally shared on moviefone) that feature an up close look at the furry characters in their most adorable cuteness.
We also recently spotted the plush character versions of the Winnie-The-Pooh characters from Disney's Christopher Robin in the UK Pavilion at EPCOT. You be the judge do they look like the characters we see in the posters?
About the film:
In the heartwarming live action adventure Disney's "Christopher Robin," the young boy who shared countless adventures with his band of lovable stuffed animals in the Hundred Acre Wood is now grown up and living in London but he has lost his way. Now it is up to his childhood friends to venture into our world and help Christopher Robin rediscover the joys of family life, the value of friendship and to appreciate the simple pleasures in life once again.
Disney's "Christopher Robin" is directed by Marc Forster from a screenplay by Alex Ross Perry and Allison Schroeder and a story by Perry based on characters created by A.A. Milne and E.H. Shepard. The producers are Brigham Taylor and Kristin Burr with Renée Wolfe and Jeremy Johns serving as executive producers. The film stars Ewan McGregor as Christopher Robin; Hayley Atwell as his wife Evelyn; Bronte Carmichael as his daughter Madeline; and Mark Gatiss as Giles Winslow, Robin's boss. The film also features the voices of: Jim Cummings as Winnie the Pooh and Tigger; Brad Garrett as Eeyore; Toby Jones as Owl; Nick Mohammed as Piglet; Peter Capaldi as Rabbit; and Sophie Okonedo as Kanga.
Christopher Robin will open in theaters on August 3rd.
Previously: Two fun new featurette trailers from Christopher Robin will have you laughing