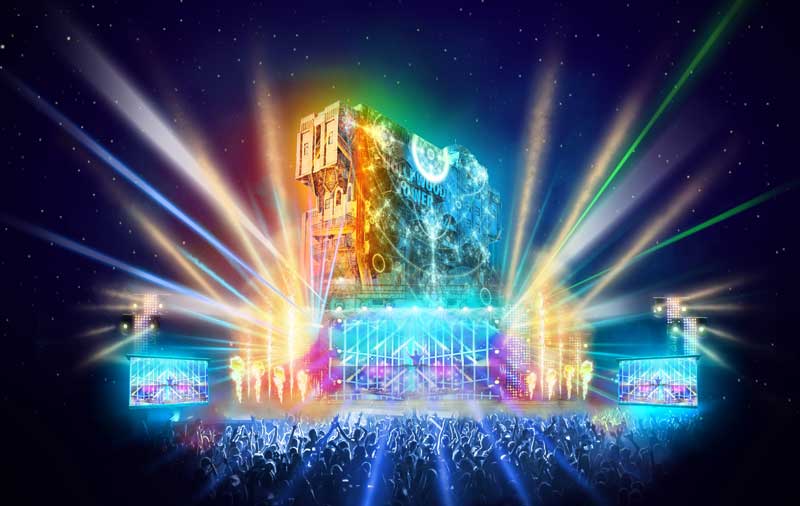 Last month Disneyland Paris invited popular electronic dance music artists & DJs to the park to participate in their Electroland festival. The event features extended park hours, breathtaking night shows, exciting attractions, and surprises for fans. Over 16,000 music loves attended this year's two-night festival.
Based on the success of this year's event, Disneyland Paris has already made it official – Electroland will be back in 2019.
"Electroland is a unique experience for music lovers and Disneyland Paris fans alike. It's an opportunity to enjoy a world-class music festival in a one-of-a-kind setting. Electroland is part of a growing list of upcoming special events like the runDisney weekend, Disney Loves Jazz Festival and Rendez-vous Gourmand that attract both new and repeat guest. These events give them the opportunity to enjoy their favorite resort in a brand-new way," stated Gustavo Branger, Vice-President Disney Business Solutions & Special Events, Disneyland Paris.
2019 will see a new edition of Electroland at Disneyland Paris with yet more music, attractions, projections and fireworks.
Here's feedback from this year's artists:
"Playing in a Disney park would be a dream come true for anyone. Getting the chance to be on this huge stage in front of the crowd with Mickey ears (…) It was so great," stated DJ Henri PFR.
"Electroland is a dream like no other. The setting, the decorations (…) It's crazy. I had an awesome day hanging out at the park too. I'd love to do it again," stated DJ Klingande.
"The organization was unbelievable. There were 8,000 people tonight, families and kids (…) It was extraordinary. Robin Schulz, Klingarde, Afrojack (…) It was a great line-up and I was proud to represent Mickey and France in front of all of Europe. Bravo!" stated DJ Bob Sinclar.
It was an incredible experience, with such great energy. It was even too short. Electroland put stars in my eyes, with lots of love (…) And electro, of course!" stated DJ Mosimann.
"It was absolutely amazing. It was our first time in a Disney park. I never went as a child, so I was excited. So playing here was just a whole experience. A dream come true," stated the artists Lovely Laura & Ben Santiago.
"It's very special. I've always been a fan of Disneyland, and being able to play here is a combination of dreams coming true. The audience was hard party people that jumped a lot. I never dared to expect something like that. It was une grande fête," stated DJ Afrojack.
"This is a very cool set up to play. The backdrop with the Tower of Terror, the Hulk (…) It looks great, it's insane. It's fun and it's an excuse to go to a carnival and have a great party. So I love the concept. It's genius. It's Disney madness," stated DJs Dimitri Vegas & Like Mike.
What do you think EDM fans? Is a trip to Disneyland Paris in order for the 2019 edition of Electroland?