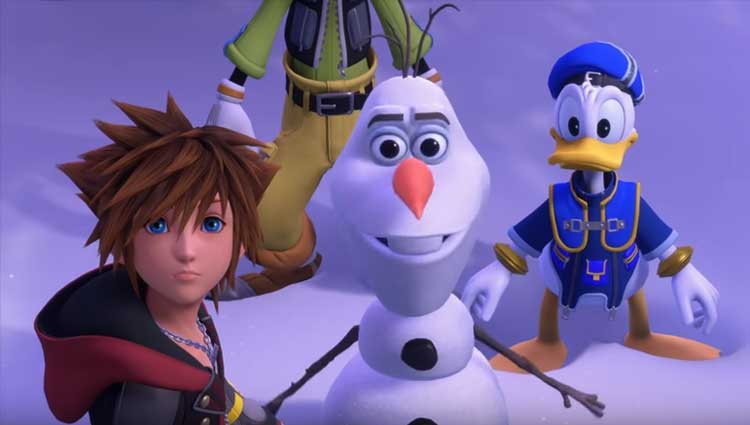 Good things come to those who wait. Ahead of the E3 convention Disney and Square Enix have announced that the highly anticipated, but somewhat delayed, action role playing game Kingdom Hearts III will launch on January 29, 2019. From new enchanted worlds like Frozen to upgraded adventures through Toy Story, Hercules, and Tangled areas, Kingdom Hearts fans will see lot to enjoy in the new trailers.
Trailer with game play demo:
About Kingdom Hearts III:
The game tells the story of the power of friendship as Sora and his friends embark on a perilous adventure and support each other through difficult times. Set in a vast array of Disney worlds, Kingdom Hearts follows the journey of Sora, a young boy and unknowing heir to a spectacular power. Sora is joined by Donald Duck and Goofy, two emissaries sent by King Mickey from Disney Castle, to stop an evil force known as the Heartless from invading and overtaking the universe. Through the power of positivity and friendship, Sora, Donald and Goofy unite with iconic Disney-Pixar characters old and new to prevail tremendous challenges and persevere against the darkness threatening their worlds.
Pirates of the Caribbean trailer:
Wow, that was impressive. I've never really sat down and played Kingdom Hearts for any length of time, but this looks very cinematic in its scope. That makes sense considering how closely Square Enix worked with Disney's team at the studios in Burbank.
"I have been so impressed working with the KINGDOM HEARTS' team. Their artistic commitment and attention to detail creating the world of our films is truly extraordinary. It's been a great partnership," said Roy Conli, producer, Walt Disney Animation Studios.
"In Kingdom Hearts III, we are excited that players will have a chance to explore an entirely new adventure set in the world of Frozen," said Peter Del Vecho, producer, Walt Disney Animation Studios. "It has been such a pleasure to work alongside their creative team to painstakingly recreate the look and feel of our world and watch them bring our beloved Frozen characters to life."
Fans who were expecting Kingdom Hearts III to be released in 2018 do get a bit of an apology from the project's director Tetsuya Nomura: "With the release set for next January, I apologize for having to ask for a little more time than what was previously announced. The entire development team is pouring their love for the franchise into Kingdom Hearts III and is striving to create a game that all players will enjoy. We are currently at the last stages of development but will work tirelessly until the end to deliver the very best Kingdom Hearts game to date."
If you want to be ready to play Kingdom Hearts III in January, you will need either an Xbox One family or Playstation4 game console. Pre-order today from Amazon and save.