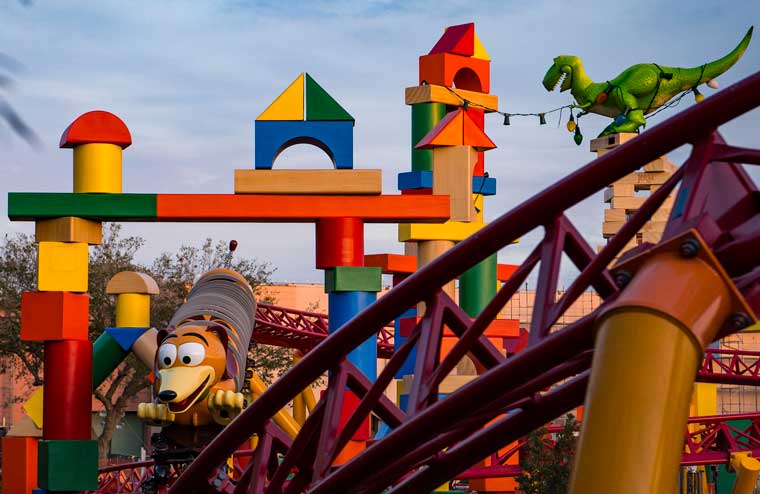 Disney just rolled out a few new preview images and videos for the upcoming Toy Story Land at Disney's Hollywood Studios. In addition to our first on-ride POV video of the Slinky Dog Dash roller coaster, we're also getting a look at the ride vehicles for Alien Swirling Sauces.
Disney shared this video with our first chance to ride along on Sling Dog Dash even if just for a few seconds:
The conceit of Slinky Dog Dash is that you're riding through a roller coaster set and various toys assembled by Andy, the kid from Toy Story movies. Looks pretty good so far.
We're also getting our first look at a finished ride vehicle for Toy Story Land's second attraction – Alien Swirling Saucers. The theme looks great. Check out those bright colors and 50s era architectural elements which represent the theme of the attraction.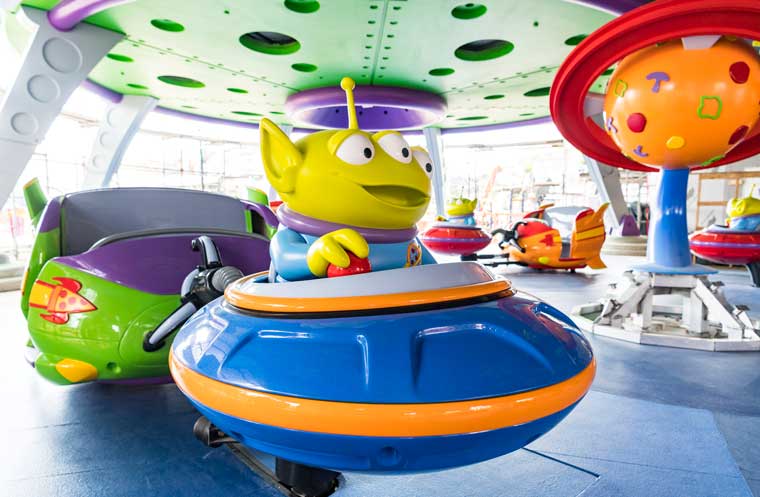 Designed as a playset Andy won at the Pizza Planet restaurant, this all-new attraction is out-of-this-world fun. "Toy Story" green aliens have powered up their flying saucers and earthbound guests get to play along. In rocket ship toys, guests swirl and whirl among toy planets and space stations as part of the game while "The Claw" hangs overhead. This space adventure is bathed in multi-color lighting and sound effects from throughout the galaxies.
We're counting down the days until June 30th when Toy Story Land officially opens. Do you have your Fastpass reserved yet? If not, you're probably out of luck.