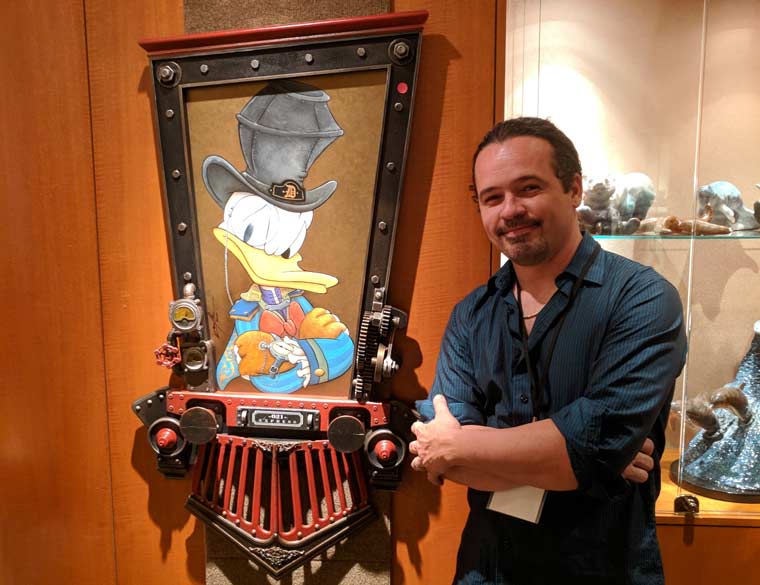 If you're looking to add the perfect piece of Disney art to your home, the Wyland Galleries at Walt Disney World's Boardwalk Inn is the best place on property to explore fantastic Disney-inspired art. The gallery features a variety of art styles, mediums, and methodologies including beautiful Wyland sculptures. A new collection features a Steampunk inspired collection of mixed media Disney limited print masterpieces.
The artist Krystiano DaCosta is combining the Steampunk ethic with his love for Disney in a marvelous multi-dimensional way. Each piece is a representation of the beloved characters in a Steampunk style complete with unique fabricated frames. From Conductor Donald with a railroad steam engine to Mickey Mouse with his gears of a time piece, Krystiano brings something new to the table.
We love the whimsy of the Goofy portrait and are pretty sure we can make room for that Mickey Steampunk portrait in our entry way. How about you?
DaCosta hails from one of the suburbs of Rio de Janeiro, Brazil. He took a leap of faith and moved to the United States where he eventually became a scenic artist at Walt Disney World. He likes to incorporate a lot of styles and techniques in his art. You may have recently seen him as a featured artist at EPCOT's Festival of the Arts.
Walt Disney was always moving forward, pushing the boundaries of each art form. From his worth with Salvador Dali to creating an entirely new medium – the Theme Park. We think Walt would have been inspired by the Steampunk movement, we know we are.
For more information on these pieces, stop by the Wyland Galleries at the Boardwalk Inn or contact Art Consultant Anthony Merillo via [email protected] or 540-9-wyland.