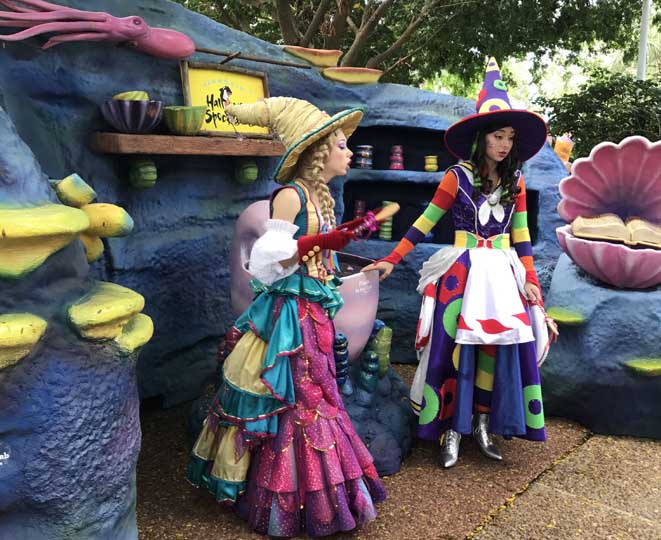 The Disney Blog sent guest writer Lisa Defrin to SeaWorld Orlando to see how they celebrate Halloween in the park. SeaWorld provided admission for Lisa and her two kids to give them a chance to explore and sample everything about the event. It turns out SeaWorld's Halloween Spooktacular is a lot of fun with a few differences.
One of the first big differences they noticed was that unlike Disney and Universal, there's no upcharge to enjoy the Halloween offerings, it's included with your regular admission to the park. Since admission to SeaWorld can actually be less than a ticket to Mickey's Not-So-Scary Halloween Party, that makes it a great alternative.
We asked Lisa to report back with her observations and highlights from the day. Since the morning was raining, they decided to do the shows first. Two of the park's shows have been given the Spooktacular treatment, up first for Lisa and her family was Pets Ahoy.
"There was one Pets Ahoy show this day, so our day pretty much got scheduled around that. While waiting for the show to start, an animal would run across the stage, out one tiny door and in another. This certainly helped to keep the kiddos engaged and entertained while we waited.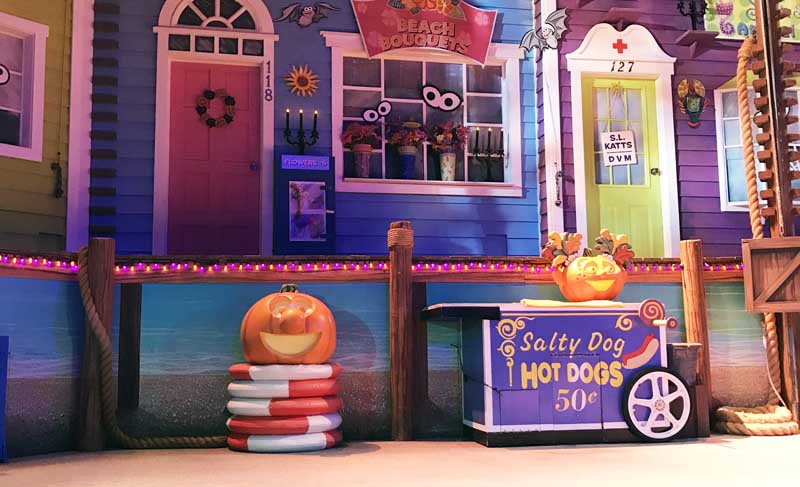 "Once the show started, all three of us were in stitches. The rat and mouse at the beginning chasing each other around the stage was pretty amazing. However the Rube Goldberg/ cause and effect sequence at the end was out of this world. Animals running back and forth in perfect choreographed moves causing other animal events to happen was just brilliant. This was all done to the Song the 'time warp' from Rocky Horror Picture Show (this was the only Halloween theme to the show). Included everything from cats dogs pigs and even a skunk. So glad that we made time for this amazing show.
"Gentle Halloween music being pumped through the park. And thankfully not the same ones over and over again. Lots of Sesame Street sung Halloween themed songs. Which is where we headed next.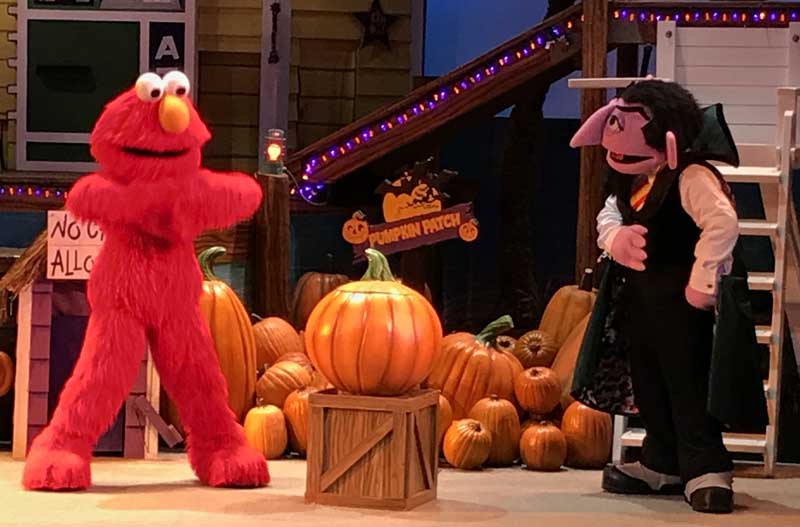 "One has to get there really early for the Sesame Street show. We were there the recommended 30 minutes ahead and the place was already over half full. My two kids acted like they were way too old and cool for the show. Since I am a huge muppet fan, they knew there was no way out of going. It didn't take long for the 7yr old to jump out of his seat and start dancing. And before I knew it, the preteen on my other side was doing the motions when she thought I couldn't see.
"A colorful dressed cast member came out to entertain the audience 15 min before the show by singing Itsy Bitsy Spider, talked about the fun of a spooky Halloween, and told some groan worthy Halloween jokes.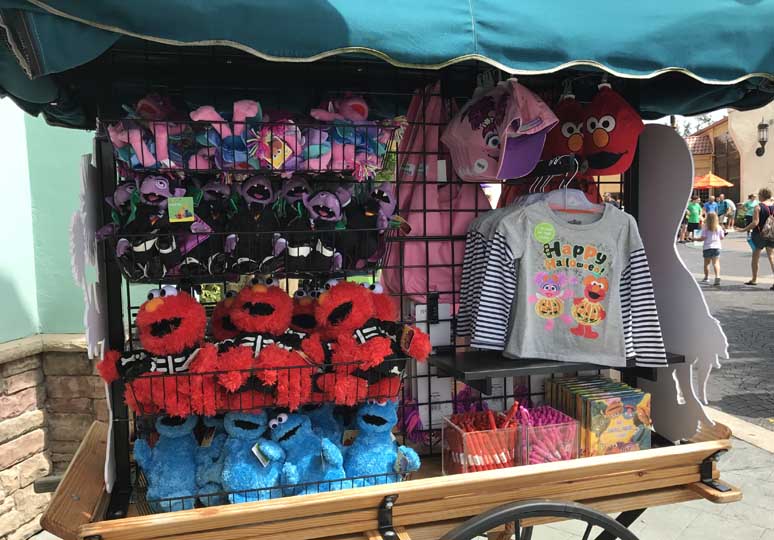 "The plot of the show was a cast member reading a story to Telly Monster about a time when the Count was all alone on his favorite holiday, Halloween. Songs in the show included Transylvania 12345, Bones inside of you, and Monster mash.
"By the time we got out of the show, the line for photo ops with Elmo and Abby was full and closed.
"When we stopped by later, The later shows were filled up and turning away guests over half an hour before the show start. The line formed and full. I'm glad we went to the first showing or we might've missed out altogether.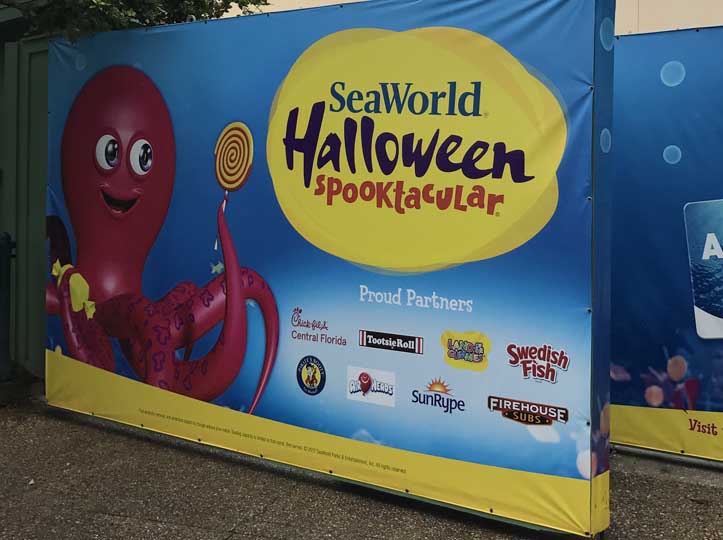 "The trick or treating was a blast. Stations are throughout the happy harbor kids area and the bayside stadium. We made it to two stations and then a cast member insisted that I get a trick or treat bag too. Yeah!!! Not just for the kiddo. Goodies included king size Oreo chocolate candy bar, Twizzlers, bags of Pirates Booty popcorn, skittles, Sugar babies, Welches fruit snacks, large Tootsie rolls, Air Heads, and Smarties.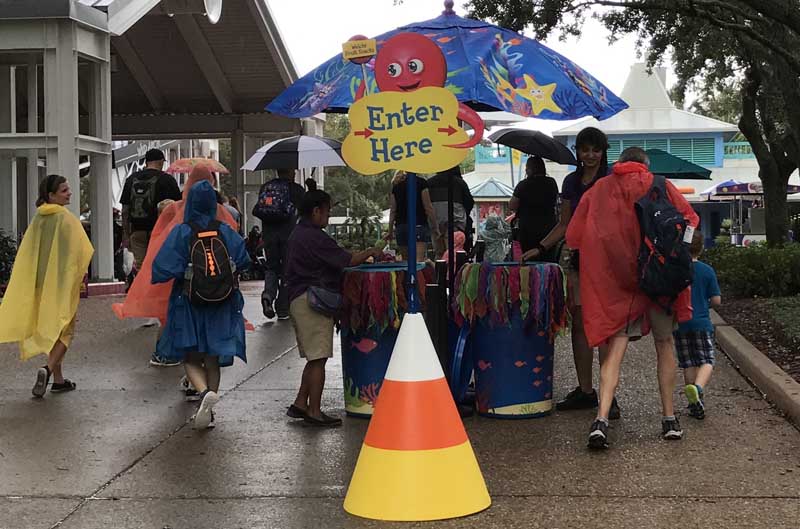 "By 1 o'clock, the kids were ready for the Water Works for a cool off. Parents, this is a good time to reapply sunscreen. I forgot to do so myself and my neck was quite red the next day.
"Having grown up in Orlando I didn't have a strong need to go see Shamu. However the kids really wanted to, so we went. I completely took for granted that they haven't ever seen the Shamu Show. They were quite in awe.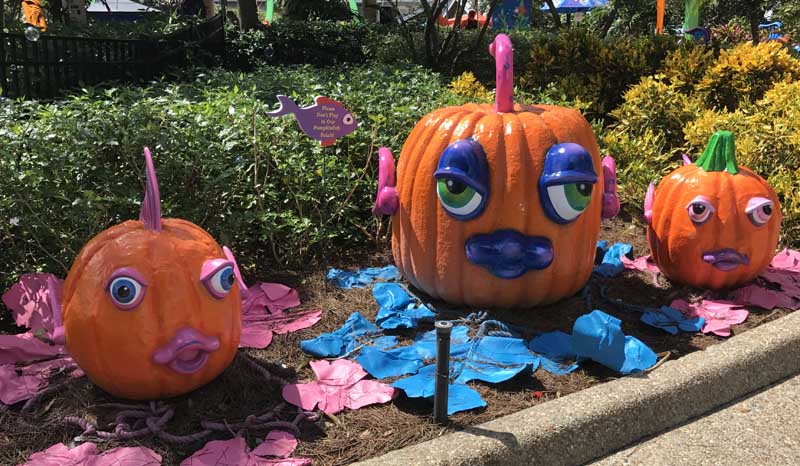 "We ended our day by going to the Clyde and Seymour show while enjoying some Shamu ice cream pops. Again this show did not have much if any of a Halloween theme but is good for some giggles."
The SeaWorld Halloween Spooktacular runs weekends through October 29, so there's still plenty of time to bring your family for some spooktacular fun.