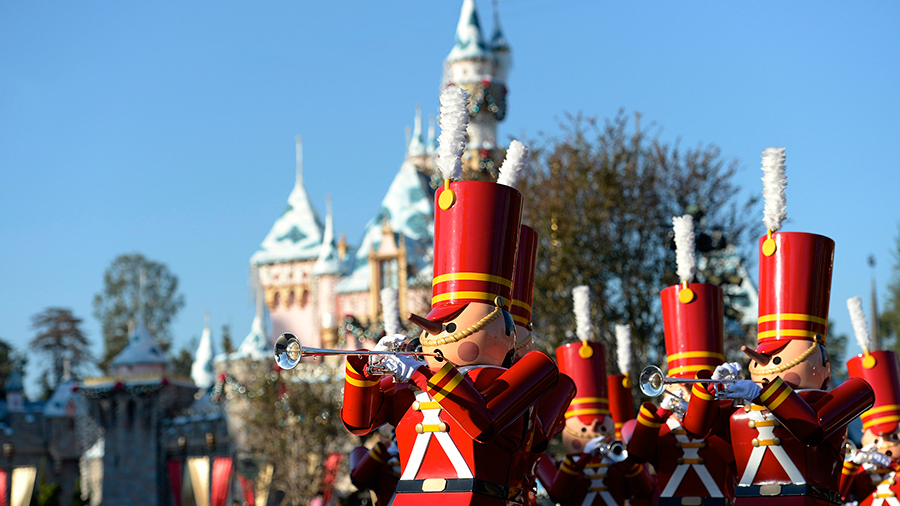 It's the most wonderful time of the year at the Happiest Place on Earth when the holidays arrive at Disneyland Resort. This year the season will run from November 10 through January 7 and Disneyland is bringing back many of your favorite experiences throughout the entire resort.
Disneyland will include fan favorites like: Sleeping Beauty's Winter Castle, "Believe … in Holiday Magic" fireworks, "A Christmas Fantasy" parade, "it's a small world" Holiday and Haunted Mansion Holiday (which begins September 15).
Sleeping Beauty's Winter Castle returns with magical nighttime snowfall moments that conclude with "Believe … in Holiday Magic" fireworks and its stirring snowfall finale.
Guests will be enchanted by the soaring Christmas tree in Town Square, Main Street, U.S.A. It's 60 feet tall and filled with nearly 1,800 ornaments. This festive backdrop is a popular location for holiday photos.
Disney characters celebrate the season in "A Christmas Fantasy" parade, a daily procession with floats, music, marching "tin soldiers" and holiday cheer. Santa, who makes a jolly appearance in the parade, also will be found welcoming guests at his special location in Critter Country.
Disneyland guests definitely will want to experience the popular seasonal transformations of these park attractions:

"it's a small world" becomes "it's a small world" Holiday with children around the world enjoying the distinctive holiday traditions of their countries.
Haunted Mansion becomes Haunted Mansion Holiday,* with Jack Skellington and his friends from Tim Burton's "The Nightmare Before Christmas" causing a collision between Christmas and Halloween.
Across the esplanade, Disney California Adventure will return the Festival of Holidays, which features "Disney Viva Navidad." Last year's popular food marketplaces will return as will World of Color – Season of Light over at Paradise Bay.
The nighttime spectacular, "World of Color – Season of Light" celebrates the warm and heartfelt spirit of the holidays as it illuminates Paradise Bay with a sparkling winter fantasy combining classic holiday songs with memorable moments from treasured Disney animated films.
"Festival of Holidays" brings the spirit of the season to life through delicious food and special entertainment, including the popular "Disney ¡Viva Navidad!" A new twist to this celebration presents the popular Festive Foods Marketplace with a mix of holiday comfort dishes that bridge many diverse cultures and family traditions.
Santa Claus, with a sleigh full of mischievous elves, appears at Redwood Creek Challenge Trail, where guests of all ages will join the festive fun with a series of holiday-themed activities along the trail.
For the residents of Cars Land, holiday decorating begins with the whimsical "Snowcar" that greets guests on the road to Radiator Springs. Each address along Route 66 – Flo's V-8 Café, Fillmore's, Cozy Cone Motel, Luigi's Casa della Tires and more – also gets a holiday makeover that reflects the personality of its "Cars" character resident.
"a bug's land" transforms for the holidays, too, as Flik and his bug friends deck their land with oversized lights and ornaments.
A dazzling, 50-foot Christmas tree adorns Carthay Circle along Buena Vista Street. The tree and surrounding buildings, inspired by Los Angeles as it appeared when Walt Disney arrived in the 1920s, are decorated with vintage-style ornaments.
Which Disneyland tradition are you looking forward to re-encountering this Holiday season?