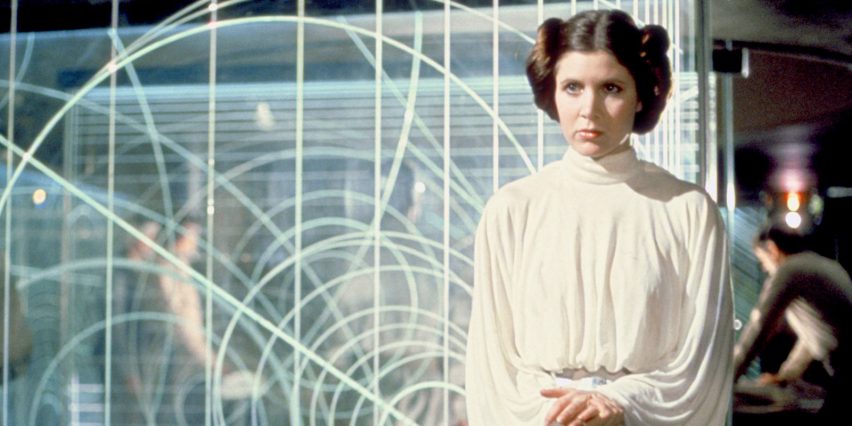 As news of the tragic death of Carrie Fisher begins to circle the globe, tributes from her friends, colleagues, and fellow actors have begun to flood in. Here are a few that we're seeing.
Debbie Reynolds, Fisher's mother posted the following on Facebook:
Disney CEO Bob Iger issued this statement:
"Carrie Fisher was one-of-a-kind, a true character who shared her talent and her truth with us all with her trademark wit and irreverence. Millions fell in love with her as the indomitable Princess Leia; she will always have a special place in the hearts of Star Wars fans as well as all of us who were lucky enough to know her personally. She will be sorely missed, and we join millions of fans and friends around the world who mourn her loss today," said Bob Iger, chairman and chief executive officer, The Walt Disney Company.
Co-Star Mark Hamill:
no words #Devastated pic.twitter.com/R9Xo7IBKmh

— Mark HoHoHoHamill (@HamillHimself) December 27, 2016
Steven Spielberg issued the following statement:
"I have always stood in awe of Carrie. Her observations always made me laugh and gasp at the same time. She didn't need The Force. She was a force of nature, of loyalty and of friendship. I will miss her very much."
Harrison Ford issued the following statement:
"Carrie was one-of-a-kind…brilliant, original. Funny and emotionally fearless. She lived her life, bravely…My thoughts are with her daughter Billie, her mother Debbie, her brother Todd, and her many friends. We will all miss her."
Star Wars creator George Lucas, who cast Leia in the first movie shared the following with the media:
"Carrie and I have been friends most of our adult lives. She was extremely smart; a talented actress, writer and comedienne with a very colorful personality that everyone loved. In Star Wars she was our great and powerful princess—feisty, wise and full of hope in a role that was more difficult than most people might think. My heart and prayers are with Billie, Debbie and all Carrie's family, friends and fans. She will be missed by all."
Kathleen Kennedy, President of Lucasfilm, said the following about Fisher…
"Carrie holds such special place in the hearts of everyone at Lucasfilm it is difficult to think of a world without her. She was Princess Leia to the world but a very special friend to all of us. She had an indomitable spirit, incredible wit, and a loving heart. Carrie also defined the female hero of our age over a generation ago. Her groundbreaking role as Princess Leia served as an inspiration of power and confidence for young girls everywhere. We will miss her dearly."
Ellen DeGeneres, who had many great encounters with Fisher over the years on her show:
.@CarriefFisher was a brilliant writer, actor, and friend. She was so much fun. I can't believe she's gone. https://t.co/wpxGvBWA0b

— Ellen DeGeneres (@TheEllenShow) December 27, 2016
William Shatner, a close friend of Fisher's
I'm deeply saddened to learn of the death of Carrie Fisher. I will miss our banterings. A wonderful talent & light has been extinguished.

— William Shatner (@WilliamShatner) December 27, 2016
Actor, writer, director Albert Brooks, a friend of Fisher and her family
R.I.P. Carrie Fisher. A brilliantly funny, talented woman. We will miss your humor now more than ever.

— Albert Brooks (@AlbertBrooks) December 27, 2016
If you were of a certain age, Carrie Fisher was your first on-screen crush.
Amazing princess. Kickass warrior. Incredible writer. Kind soul. My first crush at 6. RIP Carrie Fisher…galaxies of fans mourn your loss.

— ʞɔiwbɿɒH ꙅiɿʜƆ (@hardwick) December 27, 2016
Seth MacFarlane, creator of The Family Guy, which featured Fisher's voice
Carrie Fisher was smart, funny, talented, surprising, and always a hell of a fun time to be around. Family Guy will miss her immensely.

— Seth MacFarlane (@SethMacFarlane) December 27, 2016
Other Star Wars alumni react
Warwick Davis, first seen as Ewok Wicket in Return of the Jedi.
Princess Leia, @carrieffisher now one with the Force. Your kindness & sharp wit will be missed. #RIP PS: Thanks for the milk & cookies. xx pic.twitter.com/sFSy9UmvYY

— Warwick Davis (@WarwickADavis) December 27, 2016
Peter Mayhew, aka Chewbacca
There are no words for this loss. Carrie was the brightest light in every room she entered. I will miss her dearly. pic.twitter.com/GgIeYGeMt9

— Peter Mayhew (@TheWookieeRoars) December 27, 2016
I am very sad to hear about the passing of @carrieffisher. She will be missed! The Force Will Be With Her Always!!

— Ray Park (@IAMRayPark) December 27, 2016
No words. We love you @carrieffisher forever our Princess. May God bless you as richly as you blessed us #CarrieFisher pic.twitter.com/1UNsWOEKuW

— James Arnold Taylor (@JATactor) December 27, 2016
Messages from the rest of Hollywood
https://twitter.com/SteveMartinToGo/status/813820915473641472
She was the brightest, funniest, bravest, kindest, cleverest and sweetest person I ever knew. A crushing blow to lose @carrieffisher

— Stephen Fry (@stephenfry) December 27, 2016
She loved to give one the oddest and most randomly silly presents. These are the last three things she gave me. #CarrieFisher pic.twitter.com/qmI7YWqlZ6

— Stephen Fry (@stephenfry) December 27, 2016
https://twitter.com/KathieLGifford/status/813819418560069632
Carrie Fisher has passed, she was funnier&smarter than anyone had the right to be. Sail On Silver Girl. Condolences Debbie & Billie
R.I.P.

— Whoopi Goldberg (@WhoopiGoldberg) December 27, 2016
#CarrieFisher was so witty and provocative and unrelentingly interesting. Goddamn, I loved her. Everyone did.

— Elizabeth Banks (@ElizabethBanks) December 27, 2016
Carrie always made me smile to be around her. My heartfelt condolence to all her family. #carriefisher https://t.co/e5VNvser9h

— Joe Mantegna (@JoeMantegna) December 27, 2016
I'm sitting in stunned silence learning of the death of #CarrieFisher. In what has been a particularly sad year this may be the hardest. RIP

— Josh Gad (@joshgad) December 27, 2016