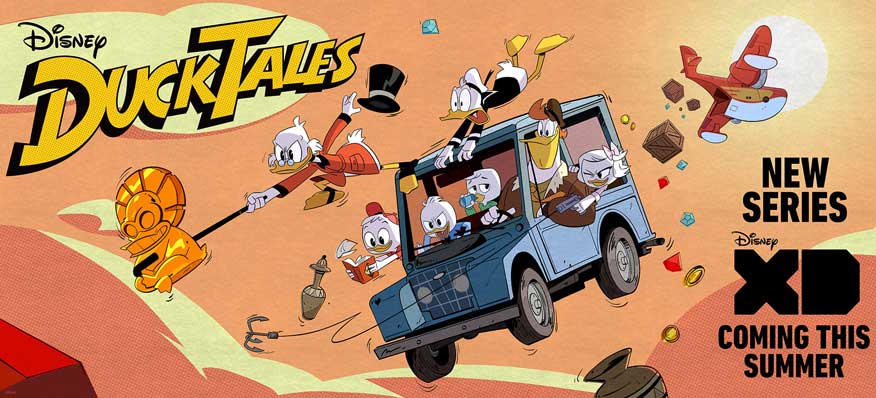 A new key image and teaser trailer for the relaunch of Disney's DuckTales animated television series on Disney XD has dropped. Disney is now targeting a Summer 2017 debut for the series. Get ready for some derring-do, bad and good luck tales. Woo-oo!
Ducktales is based on the beloved 1987 animated series from Disney Animation and the characters Carl Banks created for the Donald Duck comics. The main character will once again be Scrooge McDuck. Also along for the ride are his nephew Donald and Scrooges' grandnephews Huey, Dewey, and Louie. Plus true fans will be glad to hear that Webbigail "Webby" Vanderquack will be more involved this time around. Other characters in the first season include: Duckworth, Gyro Gearloose, Launchpad McQuack, Magica DeSpell, Ma Beagle and the Beagle Boys, and Mrs. Beakley (Webbigail's mom).
The production team for Ducktales includes some of Disney XD's best. Matt Younberg (Ben 10: Omniverse) is executive producing, Francisco Angones (Wander Over Yonder) is story editor and co-producer, and art direction from Sean Jimenez (Gravity Falls) already looks amazing.
The team wants fans to know that everything they love from the original series will be in there. Even secondary Launchpad McQuack. "Launchpad is what makes it Ducktales," said Angones.
The first season will consist of two one-hour specials and 21 half-hour episodes. So it's a real treasure trove for Ducktales fans! We can't wait.