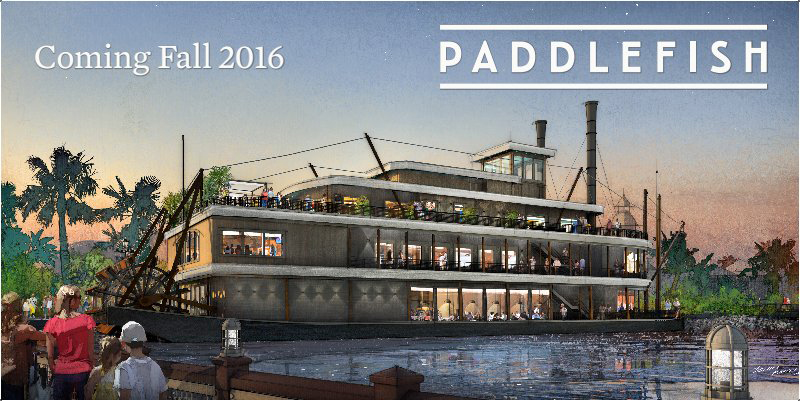 Back in 2015 when the location was still known as Fulton's Crab House, it was one of the most successful restaurants in the state, ranking 20th highest sales of all independent (aka non-chain) restaurants. Even so, Levy Restaurants decided it was time to upgrade the dining experience. The new restaurant will be called Paddlefish and, while the building will keep the sternwheeler look, almost everything else about the building will change in the bow to stern transformation.
Gone is the 'turn of the century riverboat' feel. It will be replaced by a more modern luxurious yacht. There will be new china, glasses, silverware, and menu. The menu will focus more exclusively on seafood including a new signature seafood boil.
(Click to embiggen images)
They're also taking advantage of the third floor for more than just private banquets. A new lounge will provide Disney Springs guests a unique vantage point from which to view the districts activities.
Couple more sneak peeks of the upcoming menu
Seafood + Salad = SNEAK PEEK #14 pic.twitter.com/OiEk7Iuov7

— Paddlefish (@PaddlefishORL) November 16, 2016
Raising our Lily Spritzer cocktail to SNEAK PEEK #13. pic.twitter.com/3xg9NweuTx

— Paddlefish (@PaddlefishORL) November 10, 2016
Throwing it back to our first SNEAK PEEK of chef's delicious lobster boil. #Comingsoon #TBT pic.twitter.com/1PC8nrW2SI

— Paddlefish (@PaddlefishORL) October 27, 2016
We're still waiting on the official opening date (I'm told they're shooting for January 2017, but that might slide if construction isn't finished in time).
Don't forget that Paddlefish is having a career fair on December 6th and 9th. They're hiring for all positions.