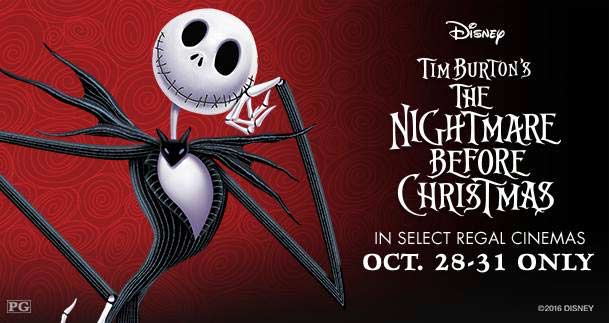 For kids of the 1980s and 90s Tim Burton's The Nightmare Before Christmas came to define that magical period when fall slipped into the winter holidays. Now you can take a new generation to see Jack Skellington, Sally, Oogie Boogie and the gang as the celebrate the holidays on the big screen.
This Halloween weekend, Friday, October 28th – Monday, October 31st, Disney's beloved classic The Nightmare Before Christmas returns for a limited engagement exclusively in over 200 Regal cinemas locations nationwide
Tickets are on sale now at select Regal theaters. Participating theaters include locations in 34 states. For tickets and information, visit: http://regmovi.es/tnbc2016.
If you've never seen Nightmare Before Christmas on the big screen before, don't miss this chance.