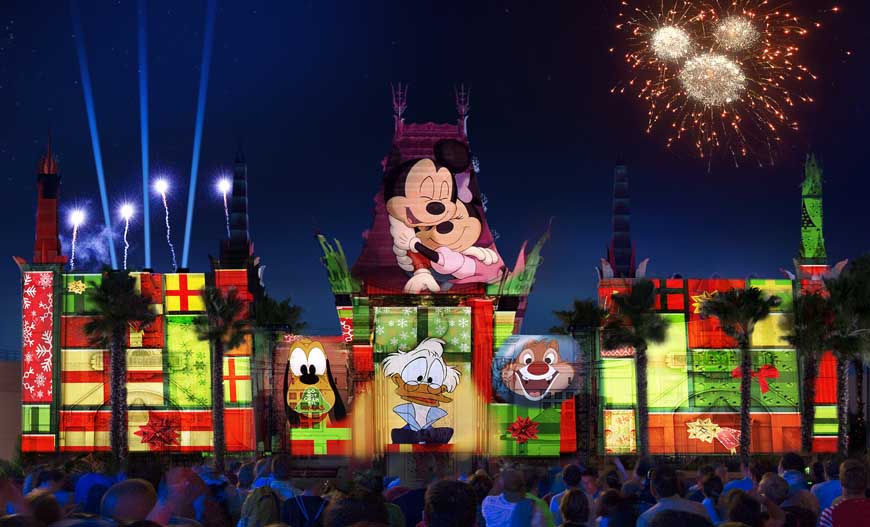 It turns out Christmas cheer will be returning to the streets of Disney's Hollywood Studios despite the demolishing of the Streets of America, where the Osborne Family Spectacle of Dancing Lights used to bring joy to millions of guests. An all-new nighttime spectacular, "Jingle Bell, Jingle BAM!," will premiere Nov. 14. The holiday show will use digital-projection set up of the "Star Wars: A Galactic Spectacular" show to send beloved Disney animated characters on a spirited yuletide adventure to get Santa back to the North Pole in time for Christmas Eve.
The main show will take place on the façade of the Chinese Theater. On, above and around the theater are state-of-the-art projections, special effects, fireworks and even snow. Adding to the immersive experience is a new musical score featuring familiar holiday tunes with an original twist. It's a holiday show that couldn't be more merry and bright.
Fans of elves Wayne and Lanny from ABC/Walt Disney Animation Studios' animated special "Prep & Landing," will recognize that it's a cranberry-red situation as the duo leads a top-notch team on a search-and-rescue mission for Santa.
Snowy fun and holiday cheer set to the twinkling tunes of the season bring together holiday moments from Disney films including "Mickey's Christmas Carol," "Beauty and the Beast," "Pluto's Christmas Tree," "Bambi," – even a journey into Tim Burton's "The Nightmare Before Christmas" – all building to a festive finale that's "So tinsel!"
A special message from Santa Claus will cap off this unforgettable spectacular for the whole family.
"Jingle Bell, Jingle BAM!" will run from Nov. 14 to Dec. 31, adding a sparkling finale to any holiday visit to Disney's Hollywood Studios
I'm a big fan of this idea. A Christmas digital projection and fireworks show is a natural fit and a perfect use of the equipment that's already there. But there are two things I wish were different: 1) The space for optimum viewing is fairly small capacity (as we discussed here for the Star Wars A Galactic Spectacular fireworks show) and 2) the name. Jingle Bell, Jingle BAM? Is this a porno movie or a Disney show?
That said, you can bet I'll be there November 14th to see the new show. The current Star Wars show is the best night show at Disney World right now. So it could be fantastic. What do you think of the idea?
(David Roark, photographer)