Update: Disney has decided to return "The Jungle Book" back into IMAX theaters for a limited release from August 26 through September 1. This is a great opportunity to see the film as it was meant to be experienced – large and surrounding you like a real jungle.
Additionally, Disney has shared two bonus features from the Blu-Ray DVD combo:
The Jungle Book Opening Sequence Easter Egg:
Plus a look at the people who made it possible:
Don't forget to pre-order your Blu-Ray or digital copy via Amazon. Your purchase will help The Disney Blog. Thank you.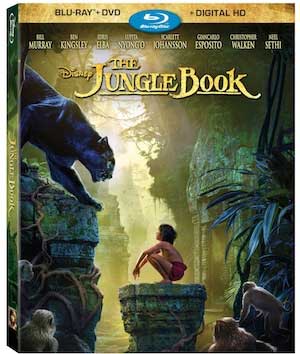 Disney's live-action remake of the epic adventure movie "The Jungle Book" won over audiences at the cinemaplex earning more than $911 million to date. Director Jon Favreau and the crew at Walt Disney Studios want you to bring this visually amazing reimaginng of Disney's animated classic home. They've packed the Blu-ray Combo Pack full of great special features.
Venture behind the scenes with in-depth bonus features that reveal the innovative filmmaking technology used to create the richly immersive jungle world and characters; Follow the journey of the film's only on-screen actor, charismatic newcomer Neel Sethi (Mowgli); Delve into a candid and humorous scene-by-scene audio commentary with director Jon Favreau and meet the all-star voice cast who help bring the film's colorful characters to life, as well as the musicians who accent the adventure with a majestic music score.
Part of what made Jungle Book work so well is the amazing voice cast:
The all-star cast includes Bill Murray ("Lost in Translation") as the voice of Baloo, Sir Ben Kingsley ("Learning to Drive," "The Walk") as Bagheera and Lupita Nyong'o ("12 Years a Slave," "Star Wars: The Force Awakens") as the voice of mother wolf Raksha. Scarlett Johansson ("Avengers: Age of Ultron") gives life to Kaa, Giancarlo Esposito ("Breaking Bad") provides the voice of alpha-male wolf Akela, Idris Elba ("Beast of No Nation") roars as the voice of Shere Khan, and Christopher Walken ("The Deer Hunter") lends his iconic voice to King Louie.
It's all about the Bare Necessities too
There are more than the Bare Necessities in the bonus features
BLU-RAY & DIGITAL HD:
"The Jungle Book" Reimagined – Favreau sits down with producer Brigham Taylor and visual effects supervisor Robert Legato to discuss "The Jungle Book" and reflect on the years they devoted to the reimagining of this timeless tale. Discover how Rudyard Kipling's original stories and the classic animated film influenced their unique approach, witness the technical wizardry that enabled the team to create a believable and thrilling movie-going experience, and learn how they borrowed a page from Walt Disney's innovation playbook to make it all happen. Lastly, meet the all-star voice cast who help bring the film's colorful characters to life, as well as the musicians who accent the adventure with a majestic music score.
I Am Mowgli – Follow the extraordinary journey of 12-year-old Neel Sethi, who was selected from thousands of hopefuls worldwide to play Mowgli "alongside" some of today's biggest movie stars. Get a glimpse of Neel's life before Hollywood came calling, check out his audition that sealed the deal, and see how a close-working relationship with Favreau brought out his best. Plus, Neel shares how filming "The Jungle Book" was one wild ride, from working alongside imaginary animals to performing some super-fun stunts.
King Louie's Temple: Layer by Layer – So, exactly how do you create a musical number featuring one man-cub, a massive, legendary ape and an army of wild and wily monkeys in the Seeonee jungle? Viewers are granted rare and unique access to the development of the "I Wan'na Be Like You" sequence in which King Louie attempts to coerce Mowgli into giving up Man's deadly "red flower" (fire). A fast-moving musical progression reel showcases storyboards, animatics, Christopher Walken's recording session and visual effects layers, which ultimately merge to form one of the film's most memorable scenes.
Audio Commentary – Favreau delivers his scene-by-scene perspective on the live-action adventure "The Jungle Book" with all the candor and humor you'd expect from this multi-talented actor-writer-director-producer.
DVD
King Louie's Temple: Layer by Layer.
*Bonus features may vary by retailer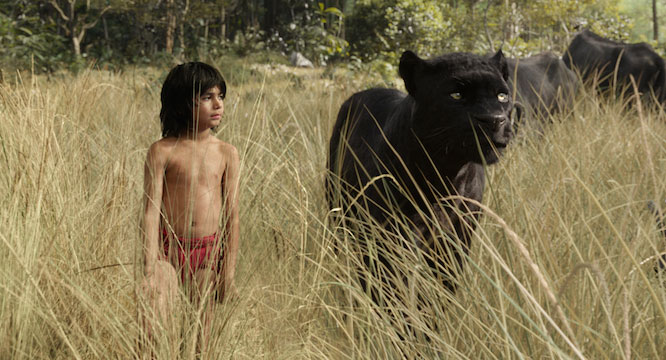 Bring the legend home. Save more than 40% and pre-order your copy on Blu-Ray or Digital HD via Amazon and help support The Disney Blog. Thank you.