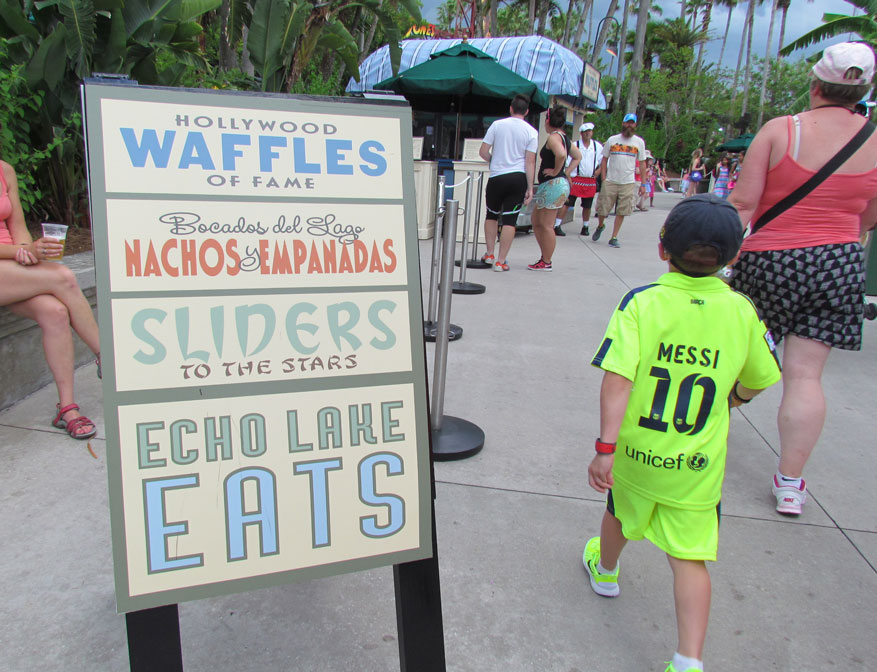 There are three new food booths available at Disney's Hollywood Studios to help provide a few options for park guests who discover that two previous popular counter-service locations are closed (one permanently and one getting an extensive remodel). You'll find them adjacent to Echo Lake over by the entrance to the Indiana Jones Epic Stunt Spectacular.
The Echo Lake Eats food booths are lightly themed, similar to what you find at EPCOT's Food & Wine festival. There are some standing tables nearby to dine al fresco or you can walk over to Min and Bill's dockside diner on the other side of Echo Lake for sit down tables or the nearby Backlot Express where there might be some inside tables open for some refreshing air conditioned bliss (which is what I did).
We checked out the three new options:
1) Sliders to the Stars: Pulled Beef Brisket Sliders, Pulled Barbecued Chicken Sliders, Mickey Brownie, Beer
2) Bocados del Lago – Nachos y Empanadas: Loaded Chili Cheese Nachoes with Guacamole, Beef Empanadas, Roasted Salsa, & Queso House Baked Dulce de Leche Cookies, Margaritas, Wine, Beer
3) Hollywood Waffles of Fame: Shaved Turkey & Gouda Waffle Sandwich, Shaved Ham & Cheese Focaccia, House Made Chocolate Chip Cookie, Wine, Beer
Cast members told me that the longest lines were usually found at the Nachos and Empanadas booth, but when I arrived around 3pm, no booths had lines.
Since I've been missing the Spicy Chicken Waffle sandwich at Sleepy Hollow, I opted to try the Shaved Turkey & Gouda Waffle Sandwich. It turns out to be a very decent replacement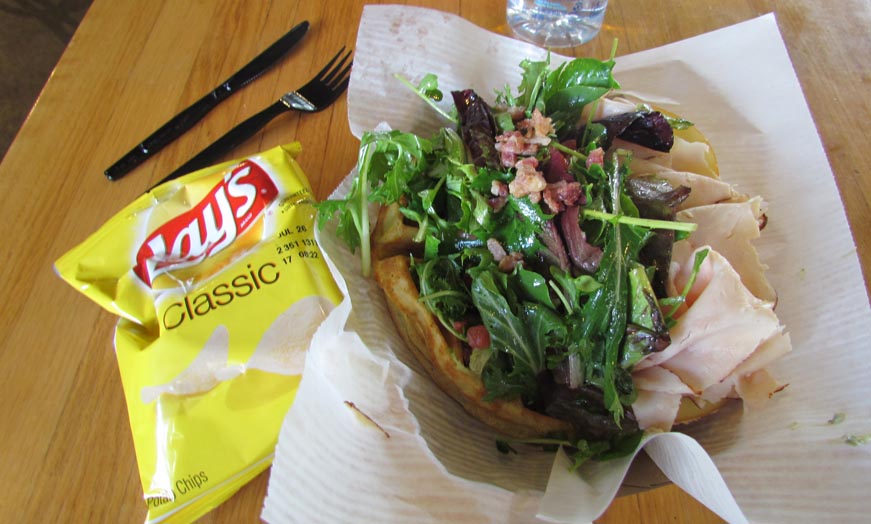 As you can see the portion was good sized. I had to eat off most of the mixed-greens salad with a fork before I could even pick up the waffle sandwich style to enjoy it. Also on board were some delicious bacon crumbles, and a herb-cheese pesto (more cream cheese than pesto, which made me happy). I also opted to pick up a container of syrup for the complete waffle sandwich experience.
I will say the Empanadas also looked good. You only get two for the price, but they're good sized. I might try the nachos next time too. I did not see either slider being prepared but will likely check them out next visit.
No idea how long these booths will be available. But my guess is at least through the summer and possibly until the new restaurant opens up in the old Pizza Planet space (rumored to be re-opening with a Muppet theme). Meanwhile, it's nice to have some additional food options at Disney's Hollywood Studios