Editor note: Please welcome guest author Sarah Maw. She joins us from Total Orlando.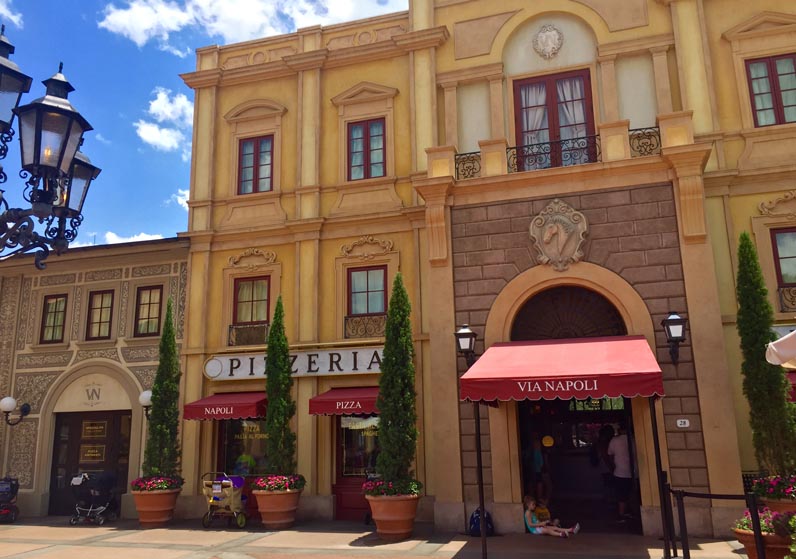 We recently were invited to special meal at Via Napoli Ristorante Pizzeria marking the restaurant's millionth pizza! The beautifully themed restaurant is located in the Italian Pavilion area of the World Showcase in Epcot. The 300-seat restaurant is famed for its thin crust pizzas, however, Italian food fans will be delighted to hear that there are many other favorites dishes available.
The traditional Neapolitan pizzas are all hand made and then baked in one of the restaurant's three wood burning ovens, which are named after three active Italian volcanoes; Mount Vesuvius, Mount Etna and Stromboli.
As a fan of Italian food, but least of all pizza, I was pleasantly surprised by the spectacular choices, including: Prosciutto e Melone Pizza (a white pizza consisting of fontina, mozzarella, prosciutto, cantaloupe and arugula). Affumicate Pizza, (a white pizza topped with mozzarella, smoked salmon, arugula, pomodorini and stracchino). And of course Quattro Formaggi Pizza with a generous helping of fontina, mozzarella, parmesan, fontina and provolone.
The chef informed us that all pizzas served are topped with two different cheeses apart from the Quattro Formaggi. And that the stracchino on the Affumicata Pizza is actually piped onto the pizza. (Stracchino is a cow's milk cheese with a very mild flavor and it can also be known as crescenza).
With flour imported from Italy, and hand made Mozzarella, the pizzas are as about as authentic as you can get for an Italian Restaurant in Florida! (We later discovered that the restaurateur Nick Valenti spent time in Southern Italy where he perfected the art of pizza making).
In addition to pizza, we were treated to the very popular dish of meatballs, made from veal and served in a rich tomato sauce. With a generous covering of cheese, they were extremely well prepared and flavoursome.
During the meal, we sampled an offering of a 'limited pasta special'. The freshly made pasta is a truffled fettuccine carbonara with guanciale which is an 'Italina Bacon", egg noodles and pecorino cheese for $ 26.
The servers also offered a very popular vegetarian option the Piatti Alla Parmigiana – Tortino di Melanzane which is a eggplant dish served with tomato sauce, parmesan and mozzarella. Perfect for Italian food fans that appreciate a thoughtfully created menu item!
For those who can't have a meal without meat, the Piatti Alla Parmigiana – Vitello is a great option. This traditional veal dish is served with tomato sauce, Parmesan, mozzarella and roasted potatoes.
As my waistband tightened, and I thought that I couldn't bear another morsel of food, the server brought the most beautiful selection of desserts to our table.
Without surprise, the first dessert on the list was Tiramisu, with decadent layers of mascarpone cream, espresso coffee, ladyfingers and chocolate. We were also treated to two sundaes a cherry and pistachio flavor, both as delicious as each other!
In true tradition, no Italian meal would be complete without a fabulous taste of alcohol. I was won over by the red sangria, which consisted of a blend of Italian wine and fresh fruit, but as I looked around the table, I noticed that my fellow diners had opted for the white Sangria. (I knew that I needed an excuse to go back!)
Just when I thought it couldn't get any better they offer me a glass of 'Via Vesuvio', a lively and refreshing fizzy concoction, named after the center wood burning oven. If Prosecco is your drink of choice you won't want to miss out on this, Prosecco mixed with blood orange, vodka and raspberries. It was simply the perfect combination of ingredients, and a perfect way to end lunch on a light and fruity note!
The overall experience was very positive. I am not a big pizza lover but Via Napoli changed my perception! The pastas were well cooked (I absolutely loved the special truffled fettuccine carbonara), the atmosphere was lovely and the service was first class. We appreciated the very attentive servers that kept our glasses charged, without being obtrusive.
Some diners might not want to pay $22 for a pizza, but I still think Via Napoli offers high quality dining, with an upscale and family friendly atmosphere. After all, who can argue with 1,000,000 pizzas in just over 5 years!!!
Restaurant hours are typically from 11:30 a.m. – 4:25 p.m. for lunch and 4:30 p.m. – 9:00 p.m. for dinner.