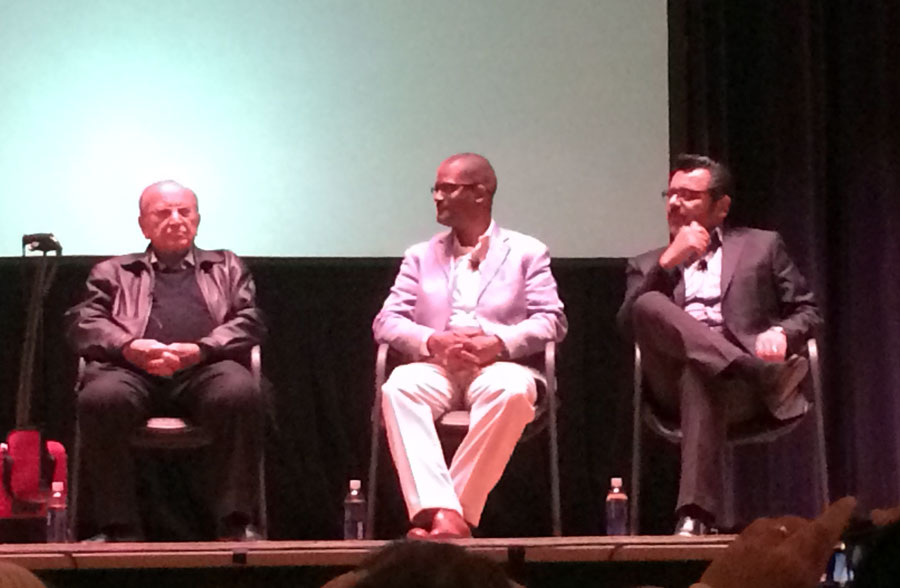 Editors Note: Please welcome Jessi Wortley Adler to The Disney Blog. She sent is this very informative report from a recent chance to hear and meet Disney legend and former leader of Walt Disney Imagineering – Marty Sklar.
On Sunday, May 15, I had the opportunity to see and meet Disney legend and former Imagineer Marty Sklar at the Museum of Science and Industry Chicago (MSI). While I'd heard Marty's name a few times before, most recently on the Behind the Magic tour at WDW, I wasn't that familiar with him. However, my husband had given me his books  (Dream It! Do It! and One Little Spark) as a Christmas gift and I had just finished reading them only a few days before I learned he was coming to Chicago. By then I was super excited after just reading his stories and advice. Plus, he was going to do a book signing after the lecture.
We live in Michigan, and it's slightly less than 4 hours from our house to MSI, so when I heard about the event, I immediately purchased tickets, having read in the book that the last time Marty had been to MSI the event had sold out. And sure enough, about a week before the event, it did indeed sell out.
Even more exciting was discovering that not only was Marty coming, but he was bringing current Imagineers Dex Tanksley and Alfredo Ayala with him – both of whom had contributed stories and advice in One Little Spark.
Walking around MSI that morning you could spot all the lecture attendees, as everyone was wearing or had some type of Disney apparel, accessories, bags, etc. I'm a huge Figment fan, so of course I wore my One Little Spark shirt from Epcot. The doors opened at noon for a 1 p.m. start time, and when we got in line about 11:45 it was already 200-plus people deep. Luckily, we still got really good seats in the seventh row of the auditorium.
I have to admit the lecture wasn't exactly what I was anticipating, but it was awesome nonetheless. Based on the event description, I was hoping to hear more from Marty, but Marty, Dex and Alfredo each took turns giving 20-minute presentations. This was followed by what was supposed to be 30 minutes of audience Q&A, but so many people got in line to ask questions, and answers were long at times, so the Q&A lasted almost an hour! Nothing wrong with that, it was fun to listen to them share stories, as that's what we went for.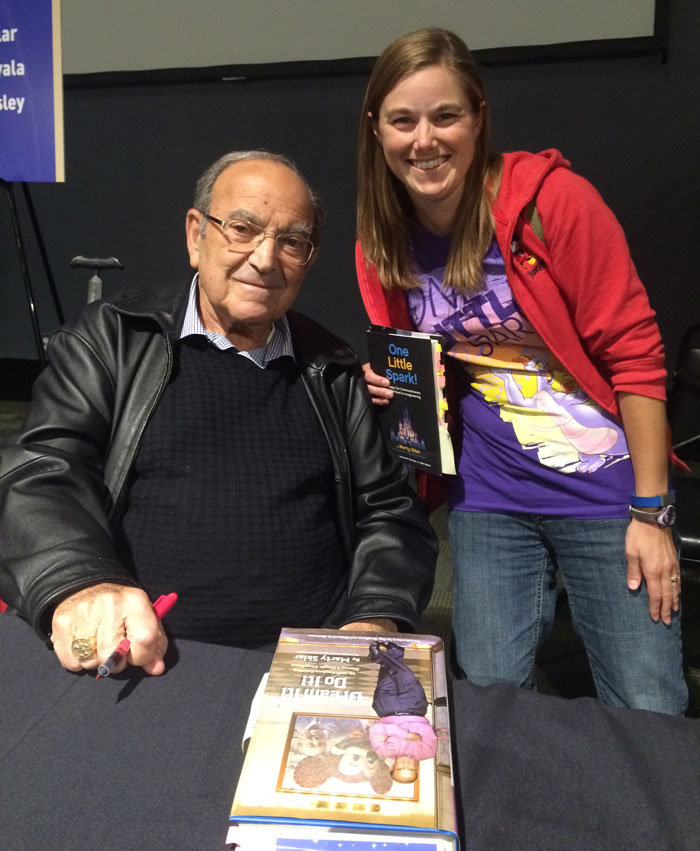 The only downside came at the book signing when around 600 people got in line (many of whom had left the lecture early to do so). To preface, it was all Disney fans in attendance, Disney fans who are used to standing in long lines for a 2-minute attraction. However, this line sure didn't meet Disney's criteria for moving lots of people through an attraction in a reasonable time. Instead of just signing books and moving on to the next person, the Imagineers spent time talking to each family/person that went through the line. While this was awesome in theory, it lasted anywhere from 1-5 minutes a family – do the math and you'll quickly realize it meant we were going to be there forever. Since we'd sat in the front of the auditorium for the lecture, it meant we ended up near the back of the line – a line we stood in for four hours. Yes, that's right. Four hours. (Oh, and might I mention the museum closed at 4:30 p.m., but we didn't leave until almost 8 p.m.!) We all knew we were crazy, but I guess it was worth it to get my books signed, talk to all three Imagineers, and get my picture taken with them. An upside was spending those hours talking to other families in the line, swapping tips and tricks for visiting Disney, sharing pictures, blogs, etc., so that made the time go much faster.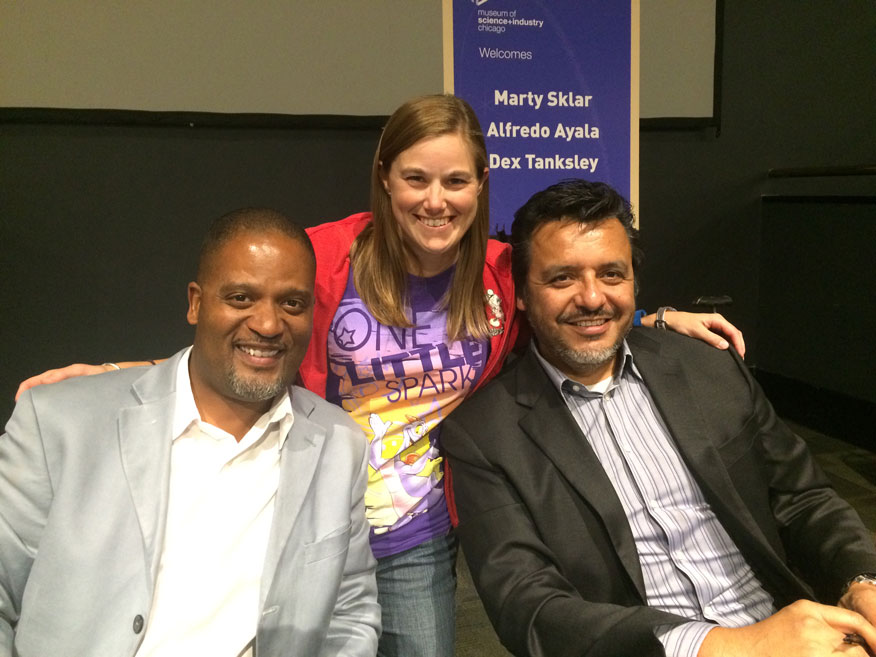 Key words of advice from the Imagineers:
From Marty Sklar:
Curiosity is key – always ask the questions why, when, where, etc.
If you haven't failed, you're not doing anything new – you're just copying what you did last time.
You must have a passion for excellence and a drive to top what you did last time.
When asked what he thinks of today's Imagineers: "I'm jealous of the technology they have. They can do things now that weren't possible before because the technology had to catch up to the imagination."
From Dex Tanksley:
It's important to exceed expectations. Don't just do the bare minimum. Dex shared a story of how his team won the very first ImagiNations contest because they went above and beyond the class assignment by creating the cartoon character Dogemite.
Always stay age 9 and take that excitement and passion with you.
You can educate people; just don't tell them you're doing it.
When asked the last attraction he'd ride if the world was ending: "I wouldn't. I'd keep working on my next project. I'm too optimistic to think things were ending."
From Alfredo Ayala:
Environment, Engagement and Entrepreneurial are key things to look for in a workplace. These help bring out the good in people.
Always start with a blank page.
When asked about a project that didn't make it he explained how they tried to create Tinkerbell to fly around the castle (as a light). The results were mind-blowing, but too scientific and dangerous to implement.
"In Imagineering there's no such thing as failure, it's called an experiment."
All in all, it was a great event and I'm so glad we went. I highly suggest everyone read Marty's books – you will not only learn a lot about Disney history, but find words of inspiration to live by.  Also, I've already started putting into practice many of the Imagineer's suggestions that were either in the book or said during the event. What Disney Imagineering advice have you or do you plan to practice in your life?