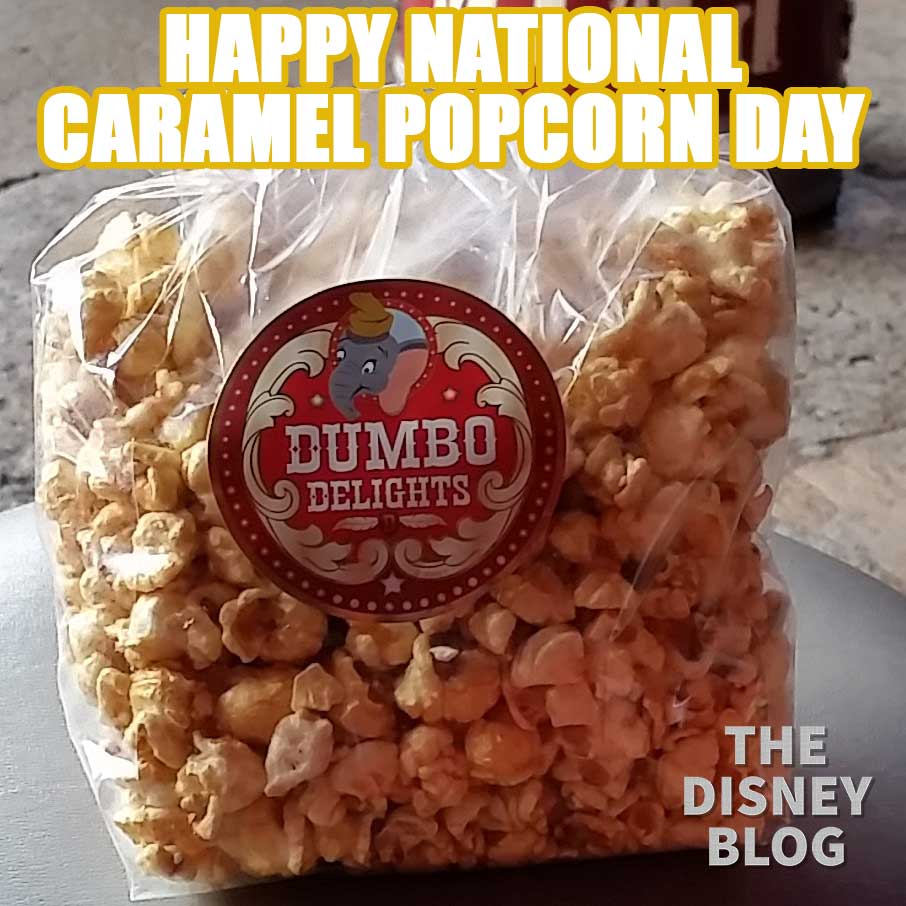 In honor of National Caramel Corn Day on April 6th, her are the top five popcorn flavors at Disney Parks also worthy of recognition.
Disney World serves approximately 320,000 pounds of popcorn each year. It's hard to say just how many of those kernels get covered in caramel after they're popped, but if the flavor is popular enough to warrant its own national day of recognition, you can bet it's a lot of them. There's no doubt that caramel corn is a snack favorite, but did you know there about all the other popcorn flavors also available at Disney Parks? Check out our top five picks for popcorn treats to try your next Disney trip:
#5 Cracker Jack (available at Casey's, Main Street USA, Magic Kingdom) Caramel corn isn't the only popcorn flavor with its own "holiday." As it turns out, February 19th marks National Cracker Jack Day. Though many might consider Cracker Jack itself a brand of caramel corn, the addition of molasses and Spanish peanuts (and a super cool prize!) is what makes this snack famous. People all over have been enjoying Cracker Jack for 120 years now and they will no doubt be munching on it for years to come.
#4 Harissa Popcorn (available at Zuri's Sweet Shop, Animal Kingdom) For those who like a little kick to their crunch, Harissa flavored popcorn may be the snack for you. A blend of chili pepper, coriander, paprika, and other spices, harissa has long been a hallmark flavor in North African meat dishes. With that in mind, when Disney introduced this flavor profile as a popcorn option last summer, the choice might have seemed odd. However, reviews would suggest that the reward for trying it is worth the risk as harissa is one of the most popular popcorn flavors sold in Animal Kingdom.
#3 Werther's Original Caramel Popcorn with Pretzels and Stroopwafel (Karamell-Küche, Germany Pavilion, Epcot) Sweet, salty, chewy and crunchy—What more could you ask for from popcorn? The Karamell-Küche has been treating guests to all kinds of caramel sweets since it opened in 2010, and it's here you can find some of the delicious popcorn snacks in all of the World. Of all the popcorn mixes on the menu, the stroopwafel is the ingredient that lands this recipe on our list. This chewy waffle and syrup cookie adds a unique texture to the traditional caramel corn snack makes this menu-item a must try for popcorn-loving park goers.
#2 All the Flavors From the Pop Cone (Cozy Cone Pop Cone, Disney California Adventure Park) Each day at the Cozy Cone Motel two of the following flavors of popcorn are served—salt and vinegar, bacon and cheddar, sweet and spicy, nacho cheese, or pickle. Each of these flavors are interesting on their own, but we'd like to try handful of all the flavors together, like a popcorn fixin's bar in our mouths! If you've got a hankering for a savory snack, any one of these flavors would surely satisfy your appetite as well as your curiosity for a unique popcorn experience.
#1 All the Flavors from the Tokyo Disney Resort (Tokyo Disney Resort, Japan) If you're in Rome, you do as the Romans do. If the same rules apply to Tokyo Disneyland, then apparently you experiment with your popcorn. Tokyo Disney Resort is home to many of the same great attractions that can be found in the US Disney Parks. However, they have a few things that we don't. Like, milk tea popcorn. And corn cottage popcorn. And soy sauce and butter popcorn. There's also a line of limited flavors (like coconut, cappuccino, and milk chocolate popcorn) available sporadically throughout the year. Such unique flavors will likely not ever be a staple on a domestic Disney Park snack cart, so if you happen to be traveling to Tokyo anytime soon, bring some samples back for the rest of us!
Which popcorn flavor do you want to try? Did we miss your flavor fave? Pop down to the comments and let us know!