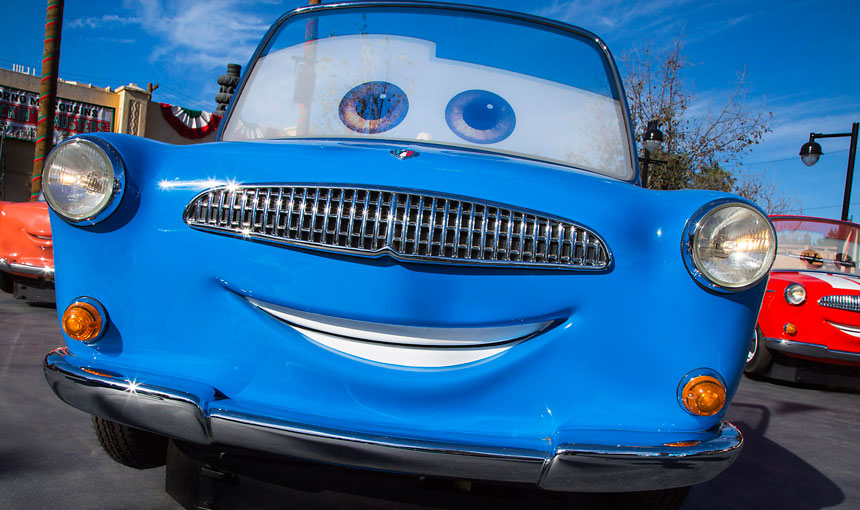 The main drag of Radiator Springs at Disney California Adventure's popular Cars Land area has had a big hole to fill ever since Luigi's Flying Tires closed. The space will soon be filled by Luigi's Rollickin' Roadsters which will start previews soon, including an Annual Passholder preview on March 4th. The attraction officially opens March 7, 2016.
Casa della Tires is celebrating Race Day in Radiator Springs and Luigi invited 20 cugini (Cousins) from his hometown of Carsoli, Italy to dance at the event. Each of the ride vehicles are inspired by 1950s micro cars. Guests are invited to hop on board and participate in the precision-choreographed celebration across a trackless "dance floor."
"Here at Luigi's, the roadsters seem to have a mind of their own," said Kevin Rafferty, Executive Creative Director of Walt Disney Imagineering, "When you come back to ride again, chances are you'll enjoy an experience that's different than the last time you rode – especially since each of the cars has a signature move they love to perform."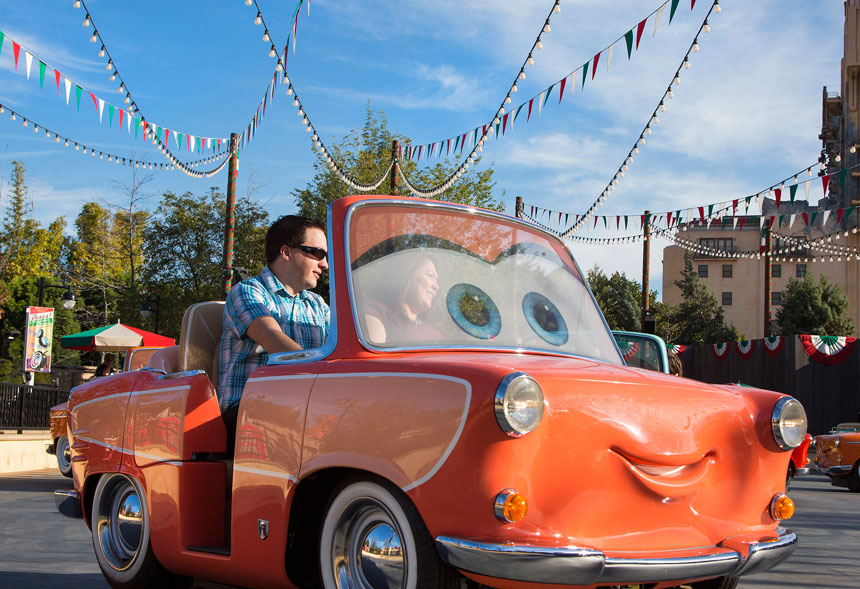 Fun facts from Luigi's Rollickin' Roadsters:
The Cousins from Carsoli, Italy
A "roadster" is an open-top automobile that seats two. While Luigi is a Fiat 500, his cousins are an automobile brand invented by Walt Disney Imagineering, called Frizzante, which had never been seen on Route 66. Now, they are exclusive to Cars Land.
Half of Luigi's cousins are male, and half are female. Guests may identify them by the front-end chrome grill "moustache" on the male roadsters.
All of Luigi's family members have their own names and unique looks—except for two coral-colored cars. Although they are identical sisters, guests may notice that Rosa has green eyes, and Gina has blue eyes.
The cars have Italian license plates representing the place of their registration: their hometown of Carsoli, Italy.
Each roadster performs his or her own routine, offering a different ride experience depending on which car a guest boards and which song is playing.
Fun Facts
"Rollick" means to behave in a jovial and exuberant fashion.
Luigi's Rollickin' Roadsters is the first Disney attraction in the United States with a trackless ride system.
Guests will enjoy spinning, turning and gliding across the track as the energetic roadsters perform their routines. The ride experience is also fun to watch, as the cars interact and dance together.
The cousins need a lot of "vrooom" to demonstrate the dances of their village. The trackless "dance floor" behind Luigi's Casa della Tires is approximately 125 feet long and 70 feet wide.
Luigi is such a huge fan of Italian Formula Racer, Francesco Bernoulli from the Disney•Pixar film Cars 2, that he created a very special moment in his garden to showcase an "Autopiary" of his legendary hero.
In honor of his cousins coming over to Cars Land for a glorious day of dancing, Luigi ordered the Fettuccini tire company's newest model in dancing tires, the "Danza." Around the queue and Casa della Tires, guests will see posters and banners sent from Fettuccini to go with Luigi's order.
In addition to dancing, Luigi and his cousins also sing vocals for the songs heard on the attraction. Guests may hear these songs:
"Rollicking Night and Day" – sung by Luigi himself
"Mambo Italiano" – sung by cousin Rosetta
"The Tire-antella" – with call outs from Luigi
"Eh, Cumpari" – sung by cousin Lou
"Funiculi Funicula" – with call outs from Luigi
To ride Luigi's Rollickin' Roadsters guests must be 32″ or taller. Keep in mind that attractions do sometimes have extended downtime during their first few months of operation. So be prepared for long waits.