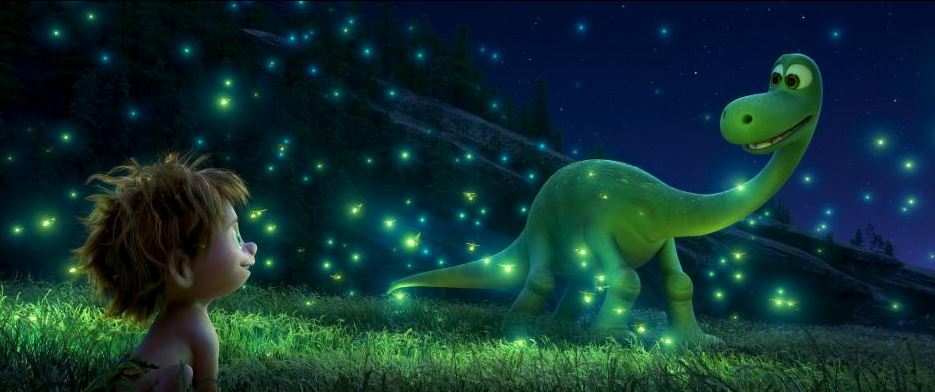 A new promo trailer for Pixar's "The Good Dinosaur" is out. It even has a few snippets of new footage in it. For instance, I don't think we've seen spot attack the red snake thing like that. Also, the trio of T-Rex's getting a little extra air time to good effect.
"If you ain't scared, you ain't alive." – Butch, a Tyrannosaurus Rex (Sam Elliott).
Disney and Pixar are also now partnering with the Wyoming Office of Tourism. The film drew its inspiration for landscapes from Wyoming's rough natural beauty. The end result will be some public relations and marketing using the film to help Wyoming draw
"The area has a fantastic variety of landscapes, ranging from the Jackson Valley and the Tetons to the amazing geysers and waterfalls in Yellowstone National Park," said Pixar production designer Harley Jessup . "We studied the grasslands of the high plains and the Red Desert, then incorporated all of it in Arlo's journey."
"Everywhere we went, there was a duality: something beautiful and dangerous at the same time—like treacherous terrain beneath breathtaking sunsets," said "The Good Dinosaur" director Peter Sohn. "We didn't want it to feel like a walk in the park. It feels big—even to a dinosaur."
"The Good Dinosaur" asks the question: What if the asteroid that forever changed life on Earth missed the planet completely and giant dinosaurs never became extinct? Pixar Animation Studios takes you on an epic journey into the world of dinosaurs where an Apatosaurus named Arlo makes an unlikely human friend. While traveling through a harsh and mysterious landscape, Arlo learns the power of confronting his fears and discovers what he is truly capable of.
"The Good Dinosaur" opens in theatres November 25, 2015!