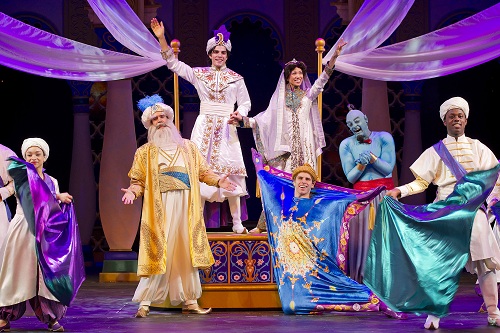 It's official, Disney's Aladdin – A Musical Spectacular is out of the Hyperion Theatre at Disney California Adventure and a Frozen-inspired production is moving in in summer of 2016. The final curtain call for Aladdin will come on January 10, 2015 after nearly 14,000 entertaining shows.
When I lived in Southern California, I would frequently make a point of viewing the Aladdin musical at DCA. It had amazing on-stage talent, great pacing, and The Genie. It was the wise-cracking Genie who added that extra something – improvisation – that made the show watchable over and over again.
Golden Horseshoe Revue ran for over 50,000 shows, so it's not unheard of for Disney to let a show run. A large part of that show's success was the way improvisation led to repeatability. So it's not out of the question that Disney could have let Aladdin run for many more years. But someone decided it's time has come. Now if you want to see an Aladdin musical you'll have to head to Broadway or book a berth on the Disney Fantasy. (There's also a school production licensed by Disney. SO maybe put the show on yourself?)
I have faith that Disney Imagineers and its entertainment department will do right by Frozen and Disneyland resort guests. You'll see all the elaborate costumes and set changes the Hyperion Theatre was designed to enable. Plus there will be a large dose of Disney magic.
"Our stage production of 'Frozen' will stay true to the heart and soul of the film," says Dana Harrel, Portfolio Creative Entertainment Executive, Walt Disney Imagineering. "Anna and Elsa will carry the audience on an emotional journey that includes show-stopping production numbers and a few unique theatrical twists. We can't wait for everyone to see it!"
There's no doubt that Frozen is a massively successful property for Disney, so I'm not surprised that park management wants to find a way to put it in all it's resorts for the long term. I am a little worried that Anna & Elsa might have overstayed their welcome, but then I look at the huge crowds that turned up at Disney's Hollywood Studios for the Frozen Summer event and realize while the fervor may have died down, the movie's fans are still out there.
With a Frozen musical on the way to Broadway and now one coming to Disney's theme parks, it will be interesting to see if the two development processes intersect. Traditionally, they remain separate, but the kernel of the idea for Disney Theatrical was inspired by the success of Beauty & The Beast stage show at Disneyland. So you never know, some of the new songs destined for Broadway might debut in Anaheim first.
What are your thoughts on a Frozen musical coming to DCA?