There were a lot of cool moments at the D23 Expo, but surprisingly little new information was released concerning the new Star Wars film, Episode VII: The Force Awakens. We did get to hear from a number of cast members in the movie and not only did Disney/Lucasfilm reveal the first official Drew Struzan poster for the movie, they gave a free copy to everyone attending the presentation.
Struzan's famously provided the gorgeous official theatrical posters for the special edition of the Star Wars trilogy and also the prequel trilogy. There is one small 'spoiler' in the poster. One of the characters is using a lightsaber and it had only been hinted that he was a Jedi previous to the poster release, but now it's confirmed.
Thanks to D23 Expo we also had a chance to hear from some of the movie's cast members about their time working on the film:
Here's Drew Struzan's fantastic poster for Star Wars: The Force Awakens: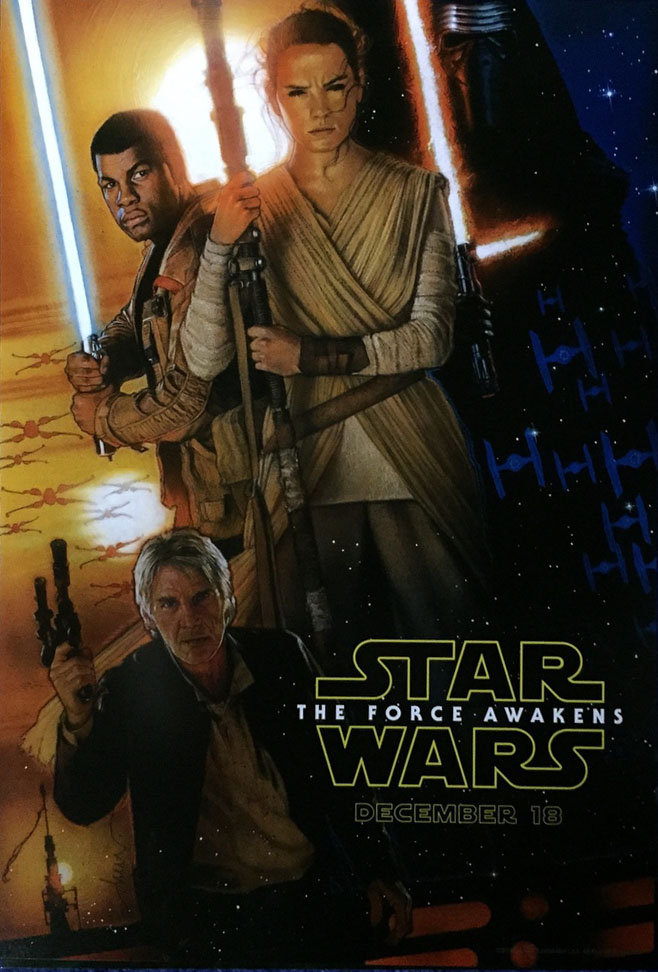 That man with the blue lightsaber (is it Luke Skywalker's old blue lightsaber (aka Anakin Skywalker's blade before he became Darth Vader)?) is Finn (John Boyega), he'd been seen with the lightsaber in his possession in some preview images and shots from the set, so that secret was pretty much out. However, there are rumors of other Jedi in the film. Are there other Force wielders on the poster? What do you think?
It's also interesting that we only see Han Solo of the traditional trio of featured actors. Does Luke and Leia's absence indicate their relative absence from the movie? Also missing are C-3PO and R2D2. While they weren't every other Drew Struzan poster, they did feature in most of them.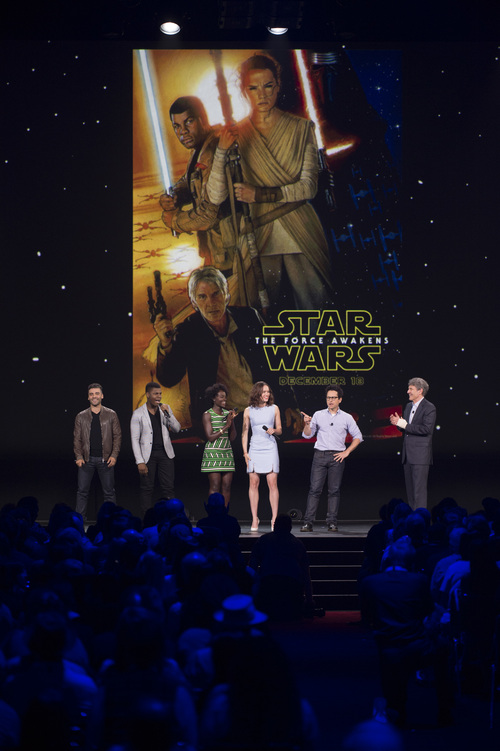 We're hearing that since this was a D23 Exclusive gift, it's not likely the final one-sheet for theaters. Check out this post at Slashfilm for all six of Struzan's previous Star Wars posters.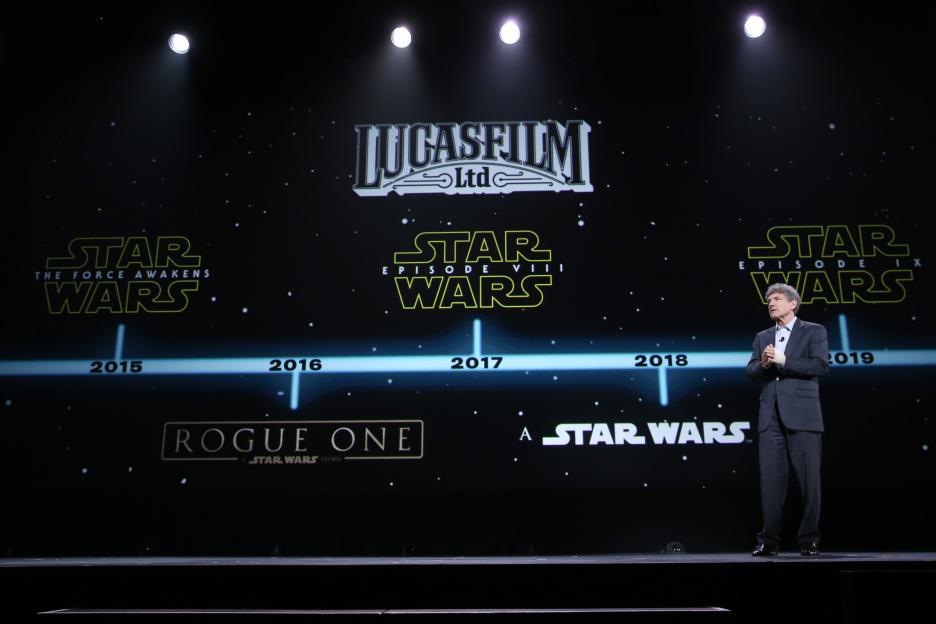 Also released at D23 was the projected order of the next five Star Wars movies. That includes the three new films that will compose the 3rd Trilogy (aka the Legacy films) and the 2 films that are the Star Wars Story films (previously called the Anthology films).
Episode VII: December 2015
Rogue One – A Star Wars Story: December 2016
Episode VIII: 2017 (it's believed they want to move this release to the summer)
Untitled Star Wars Story: 2018
Episode IX: 2019
Do you think Star Wars films should be released in the summer or winter?
(photos courtesy Disney/Image Group LA)