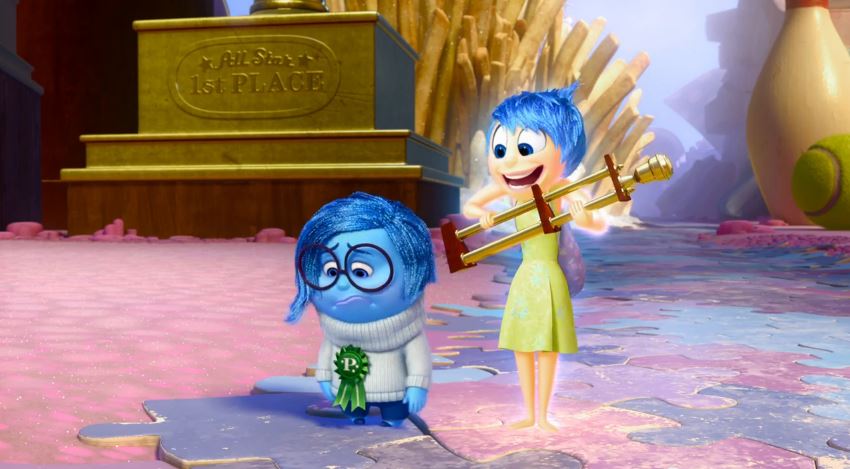 I don't have a lot to say about "Inside Out", Pixar's fifteenth feature film, which opened today in theatres after what proved to be a long wait for fans of the studio. (Pixar's last film, "Monsters University", opened two years ago this week.) Or, rather, I don't want to say a lot. The more one says about a movie as enjoyable as this, the more expectations go up, and with that always comes the risk of disappointment. That would be a shame here.
With "Inside Out", directed by the brilliant Pete Docter, Pixar has beautifully bridged the gap between its more complex, mature films (see "WALL-E") and its more childlike endeavors (see "Cars 2"), the latter largely misunderstood by Joy-less critics (pardon the pun).
Heartstring tugs, 'for every laugh a tear'? Sure, although in a more subtle way than in the "Up"'s growing old montage or the closing of "Toy Story 3". But you'll feel it, especially if you had to suffer the misfortune of having to move as a young teen yourself, a major cause of trouble for Riley. Not gonna go there.
But there's also the fun stuff that will absolutely put a positive spin on your day—a lot of it. Crazy characters that everyone will love (and kids will endlessly imitate). How does an emotion, a feeling look? Move? Behave? What about a memory? An idea? You'll never think about these concepts the same way again.
Even wilder are the colors and sets, along with the animation, parts of which are truly the boldest ever put on the screen, especially if you're taking in the spectacle in 3-D. There's a scene in which shimmering Joy and gloomy Sadness, misled by a well meaning but unwise Bing Bong (Riley's kooky, imaginary pink elephant friend), are "defragmented"—you'll nudge the person next to you, as if to say, Are you seeing this?!
Is "Inside Out" Pixar's best yet, as some are saying? Not for me. "Toy Story 2" still holds that crown after so many years. Does it come as close as "WALL-E' and "UP"? Certainly. It's proof that good things come to those who wait. Do your emotions a favor and see this movie the first chance you get.