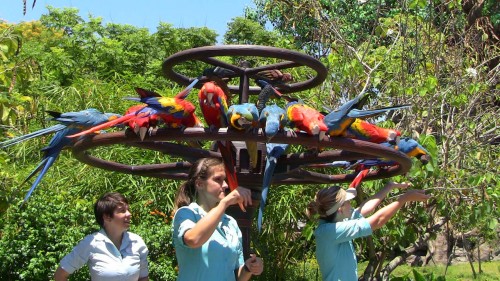 Winged Encounters – The Kingdom Takes Flight is a new show at Disney's Animal Kingdom that features wonderful colorful macaws as they fly around the Tree of Life before descending into Discovery Island.
You cans see the Macaws flight from many locations around Discovery Island, but for the best view of the show, gather right in front of the Tree of Life where Disney has installed a perch.
Throughout the show, guests can view all 6 shades of macaw as they're showcased in flight—from hyacinth, green-winged and military to blue and gold, blue-throated and scarlet. Each awe-inspiring specimen features a wingspan of up to 60 inches, which you can witness firsthand as they soar up and around the heart of the park.
It really is more impressive than the video shows. See the early show up close then return for the second show and watch from further back to get the whole scope.