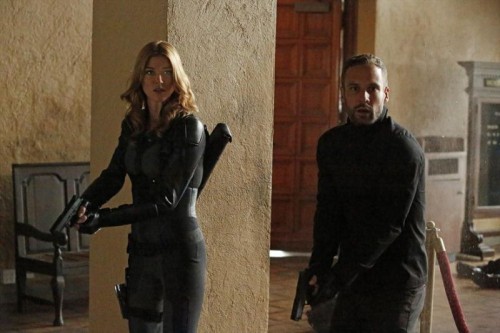 As Agents Bobbi "Mockingbird" Morse and Lance Hunter, Adrianne Palicki and Nick Blood have a tempestuous on-again-off-again relationship that ads a bit of will they or won't they tension to Marvel's Agents of S.H.I.E.L.D.. Now they'll get a chance to explore that dynamic even further in their own spin-off from the hit ABC Series.
It's true that Palicki's had hitting Mockingbird has developed a fan following, and I've enjoyed the play between her and Blood's character. They always seem to have an extra surprise up their sleeves for whomever they encounter. They also have a natural rhythm when they work together on assignment.
As Agents, Morse and Hunter, were second season additions to the Marvel TV show. As it currently stands, the two characters are on opposite sides of opposing factions on the good guys, but still in love. Events of the last few episodes this year are supposed to provide the jumping off point for the spin-off.
Like last year with "Captain America: The Winter Soldier," the events of "Avengers: Age of Ultron" are also expected to have an impact on our team in Marvel's Agents of S.H.I.E.L.D.. Should be an interesting last five episodes this season.
With Marvel's Agents of S.H.I.E.L.D., a second mini-season for Agent Carter, this new spin-off and a potential fourth series (based on Ms. Marvel says internet rumors), there's a lot of marvel-ly goodness coming to ABC in the future. What other Marvel properties do you think would make for a good TV show?