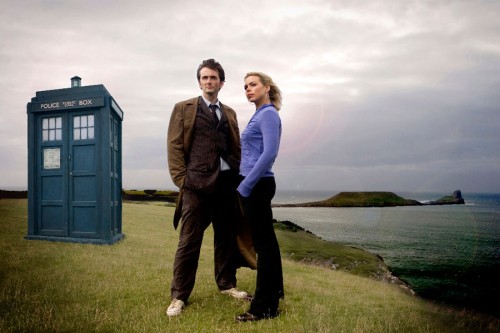 A whole new generation of American kids are about to get introduced to the TARDIS, the Time Lord, and his companion. The revival of BBC's world-renowned science-fiction drama "Doctor Who" will premiere on Disney XD beginning Saturday, May 9 (9:00 p.m., ET/PT). The show will start with season two and run through four, which is the reign of David Tennant, the tenth Doctor in the history of the global sci-fi hit.
The landmark series depicts the adventures of the Doctor, a time lord who travels through space and time in his TARDIS, combatting various enemies to save civilizations around the globe. I'm a big fan of the series and my son and I regularly watch the show. The series rebooted in 2004, but it has a 50+ year history to draw from. That said, these are the right episodes to Doctor Who to kids for the first time. They're not too scary, set in the 'current day' or at least current for 2006-9 when their first aired.
Marc Buhaj, Senior Vice President, Programming and General Manager, Disney XD said, "It has been a pleasure working with BBC, and we are thrilled that their hallmark drama series 'Doctor Who' is joining the Disney XD programming line-up. This iconic series features the high-quality, high-stakes action and adventure storytelling that our viewers love. The show headlines one of the most charismatic lead characters in television in the form of the Doctor and showcases a compelling rogues' gallery of villains from around the universe."
"Disney XD is recognized for its family-friendly programming, making the channel a great partner to introduce the David Tennant seasons of 'Doctor Who' to a new generation of viewers," said Matt Forde, EVP Sales & Co-productions, TV, BBC Worldwide North America.
"Doctor Who" originally ran on British television for 26 seasons between 1963 and 1989, before it was re-launched in 2005. Following the phenomenal success of the first season of the re-launched version that took British television by storm in 2005, the second installment is full of new thrills, new laughs, new heartbreak and some terrifying new monsters. Together, the Doctor and Rose (played by Billie Piper) travel back in time to the Highlands of Scotland to find Queen Victoria confronted by a terrifying Werewolf, and into the future where an evil team of humanoid-feline nuns hide a sinister secret at the heart of their hospital. A spaceship in the future holds a doorway to 18th Century France, where lethal Clockwork Droids stalk Versailles, and back on 21st-century Earth the human race is threatened by an army of emotionless Cybermen. The second installment was produced by BBC in association with CBC.
On Saturday, May 9, Disney XD will feature a preview airing of "Doctor Who"(season two, episode one – "New Earth"), following the Disney XD premiere of "Fantastic Four" (6:45 p.m., ET/PT). In "New Earth," the Doctor and Rose board the TARDIS for new adventures in time and space. But when they visit mankind's new home, far in the future, they find gruesome secrets hidden inside a luxury hospital. And an enemy thought long since dead, the paper-thin Cassandra, is out for revenge.
Season Two, "Adventures in time and space," will continue to rollout on Disney XD beginning Saturday, June 13. The special week-long programming event will give fans eight episodes, airing daily Saturday, June 13 through Saturday, June 20. Beginning June 14, episodes will also be available on the WATCH Disney XD app, which allows consumers to watch on tablets, phones, computers and connected TVs.
Are you a Whovian? Are you excited that Doctor Who is coming to Disney XD?