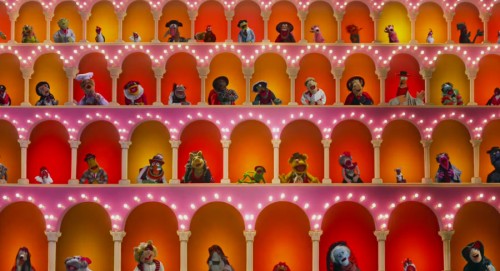 Ever since Disney bought the rights to The Muppets from the Jim Henson Company, there has been a call from fans to bring the Muppets back to prime time TV with a new variety show. There's a whole new generation just waiting to see their generation's celebrities creatively collaborating with Jim Henson's creations.
So there was more than a little excitement when ABC announced today that it has approved a budget for a pilot episode for a revival of The Muppet Show. Details are scarce, but we have learned that Bill Prady, co-creator of the wildly successful sit-com The Big Bang Theory, is lined up as Executive Producer and co-writer. Prady is family with The Muppets having written for a number of their specials over the year.
Bob Kushell (Anger Management) will be the showrunner. Randall Einhorn will be directing the pilot. He's worked on a lot of recent sit-coms including The Office, Parks and Recreation, and Modern Family).
So far there's no official name announced for the new show, but look for a lot more info on the show as soon as the upfronts for potential advertisers in May.
This would actually the second attempt to bring The Muppets back to prime time TV. The 1996 series "Muppets Tonight" only lasted 10 episodes before being canceled. Do you think this new version will do better?