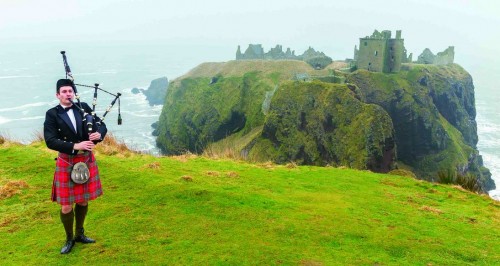 So many of Disney and Pixar's fairy tales original in Europe, so taking a Disney Cruise to Europe, and for the first time the British Isles, is bound to be extra magical. That probably explains why Disney Cruise Line is sending it's original ship the Disney Magic, on these new itineraries.
In 2016, Disney Cruise Line is sailing its first British Isles itinerary, visiting Scotland, England, Ireland and France. Throughout the summer of 2016, Disney Cruise Line also will return to Norway, Iceland and ports of call in more than 15 European countries. There will be limited engagements in the Baltic, Norwegian Fjords, Iceland, British Isles, Greek Isles and the Mediterranean.
In this video, Cruise Director Brent gives us a sneak peek at where you can sail with Disney Cruise Line next year including our first-ever British Isles cruise
More detailed itineraries below:

New British Isles
On June 5, 2016, Disney Cruise Line will sail from Dover, England on its very first British Isles itinerary. The 12-night cruise on the Disney Magic will sail to Invergordon, Kirkwall and Greenock (Glasgow), Scotland; Newcastle and Liverpool, England; Dublin, Ireland; Le Havre (Paris), France; and Guernsey; one of the Channel Islands. All of these, except Kirkwall, are first-time ports of call for Disney Cruise Line.
On this itinerary, guests can explore the majestic beauty of Scotland, experience Highland culture, sample traditional cuisine and spirits, and discover the country's iconic castles. Elsewhere on the itinerary, guests will experience the merry, cosmopolitan city of Dublin, the culturally rich and romantic Paris, the birthplace of the Beatles and the British Invasion in Liverpool, and the charming countryside of Guernsey.
New Iceland and Norway
Disney Cruise Line guests can explore the natural wonders of Iceland with two new 12-night Disney Magic sailings. Each itinerary includes two days in Reykjavik and a stop in Akureyri, Iceland; Bergen, Norway; and Kirkwall, Scotland. Departing from Dover, England and concluding in Copenhagen, Denmark, the June 17 cruise also visits Stavanger, Norway and Newcastle, England. The July 13 cruise departing from Copenhagen, Denmark and concluding in Dover, England also visits Oslo and Kristiansand, Norway and Invergordon, Scotland.
On this itinerary, three days in Iceland provides time to explore the country's rich natural wonders such as volcanoes, lava fields, glaciers and thermal springs. In Norway, guests are immersed in the splendor and charm of the country with exciting ports steeped in Viking history.
New Norwegian Fjords from Dover
For the first time, Disney Cruise Line will sail from Dover, England on a seven-night cruise to the majestic Norwegian fjords. Departing on May 29, the Disney Magic will visit Stavanger, Alesund, Geiranger and Bergen, Norway.
In Norway, Disney Cruise Line guests will discover breathtaking natural wonders such as magnificent mountain ranges, massive glaciers and majestic fjords. The enchanting Scandinavian culture of the region comes to life through local attractions, stunning architecture, storybook villages and historic city centers.