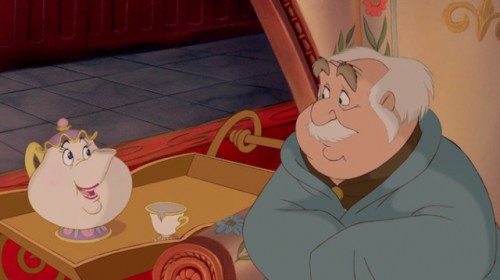 Disney hopes to continue its string of successful live-action remakes with a new live action version of Beauty & The Beast. We already learned that Emma Watson and Dan Stevens will star as Belle and the Beast/Prince respectively, and Luke Evans will play the role of Gaston. We now know that Emma Thompson has joined the cast as Mrs. Potts and Kevin Kline as Belle's father, Maurice.
I love Kevin Kline, who voiced Phoebus in Disney's Hunchback of Notre Dame, and Emma Thompson did such a wonderful job as P.L. Travers in Disney's Saving Mr. Banks and as Queen Elinor in Pixar's Brave. (Trivia: Without googling it, can you name the other character Thompson voiced for Disney?*)
Eight-time Oscar-winner Alan Menken, who won two Academy Awards for the 1991 animated classic, will score the film, which will feature new recordings of the original songs in addition to several new songs written by Menken and Sir Tim Rice. So this might actually be a live action remake of the stage musical, which itself was an expanded version of the movie. I'm okay with that.
Disney has announced they will release Beauty and the Beast in 3D on March 17, 2017.
The beloved tale will be retold for the big screen with a modern live-action lens and the help of transformative computer generated special effects. Bill Condon will direct from a script by Stephen Chbosky, and the film will be produced by Mandeville Films' David Hoberman and Todd Lieberman. Production begins in May at Shepperton Studios in London.
*Trivia answer below:
Captain Amelia from Treasure Planet was voiced by Emma Thompson.