Just ahead of the March 13 release of Disney's live action film "Cinderella," Disney Consumer Products and Saks Fifth Avenue launched a fairy tale collection of luxury designer shoes that reimagine Cinderella's iconic glass slipper for grown up fans of the classic story.
The collection was unveiled with the stars of the film, Lily James and Richard Madden, via six store windows at the Saks flagship store in Manhattan.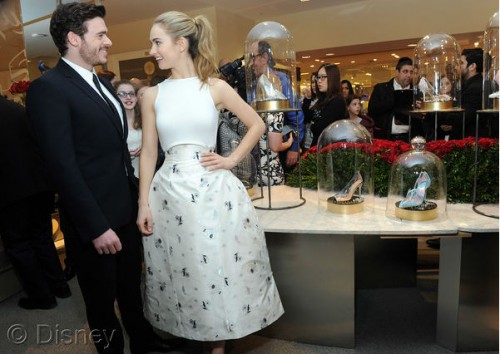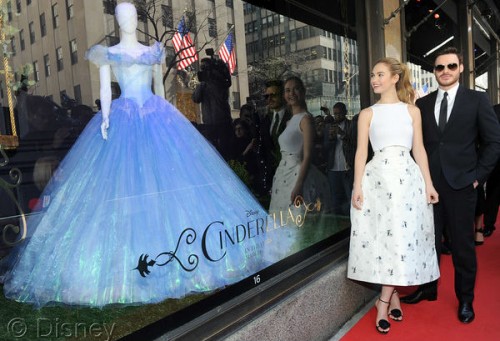 Asked to create their own interpretation of the famed glass slipper Cinderella accidentally leaves behind when the clock strikes midnight, nine designer shoe brands rose to the challenge. The collection includes designs by Paul Andrew, Alexandre Birman, René Caovilla, Jimmy Choo, Salvatore Ferragamo, Nicholas Kirkwood, Charlotte Olympia, Jerome C. Rousseau, and Stuart Weitzman.
When asked to describe their inspiration, Sandra Choi, Creative Director Jimmy Choo said, "I think every girl desires a Cinderella moment in their lives. This story ignites a love affair and fascination with shoes that never dies. The power they have to transform is instilled from a young age and the fantasy remains alive forever. I wanted to create a shoe that felt magical, with alluring sparkle and a feminine, timeless silhouette evoking those childhood emotions."
Designer Charlotte Olympia said about her shoe, "I am delighted and honored to be invited by Disney to design one of the most iconic shoes in history. It was such a pleasure to create my version of Cinderella's glass slipper which I have aptly named If the Shoe Fits. This transparent platform shoe made with my signature PVC & perspex materials is adorned with star and crystal detailing as befits any princess."
"Cinderella in 2015 has a timeless appeal. The diamond and translucent bootie enhance the vision I have of her," says designer Stuart Weitzman to go with a more covered design.
The shoes are featured for sale at 10022-SHOE, Saks' dedicated shoe floor Zip Code. Expect these to fall into the "if you have to ask, you can't afford it" price range.
[Store photos by Diane Bondareff/Invision for Disney Consumer Products/AP Images]