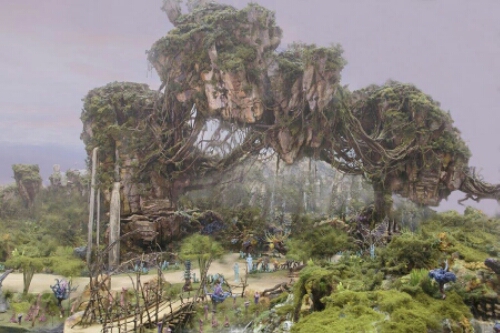 Some very exciting video from Disney Imagineers today. They're taking us behind the development process of the bio-luminesent plants that will be featured across the landscape of the World of Avatar expansion at Disney's Animal Kingdom. We also get our first peak at the latest concept art for the iconic floating mountains on Pandora and a model of what they'll look like.
According to Disney, James Cameron and his team at Lightstorm has been closely involved with Disney's creative development team, lead by Joe Rohde. Plus Tom Staggs and Disney CEO Bob Iger have also been closely involved
Some details I've noticed. There is a lot of work on what Pandoran plants look like, an obscured bit on puppets, and some blurred out concept art in the background.
I hope they share more about what it will be like to see Pandora while riding on banshee as has been promised. But seeing the plants light up and the surface react to footsteps is pretty cool too.
What did you like the best about this latest sneak peek?