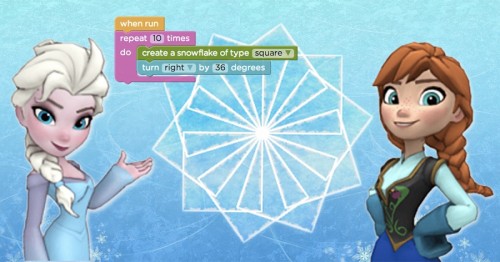 I missed this one last fall, but think it's important enough to share today. Disney Interactive ha partnered with Code.org to create a computer science tutorial that will feature Frozen's Anna & Elsa helping teach youth of the world, and especially girls, how to write code.
The free program will teach children how to draw snowflakes, snowmen and more "ice craft" in an easy to follow online lesson. The tutorial aims to teach logic and math and nurtures creative thinking through introductory computer programming. Kids who participate will also be able to share their creations with friends.
Disney also donated $100,000 to support Code.org's efforts to bring computer science education to afterschool programs nationwide.
"As a parent, I know firsthand how excited kids are over Disney's 'Frozen,'" said Hadi Partovi, co-founder of Code.org. "Our entire team is grateful for Disney Interactive's tireless support of the Hour of Code, which provides students an entry point into the world of creativity that opens up when they build technology for the first time."
"Disney Interactive shares Code.org's passion to unleash the creative potential within all of us and we're proud that the Disney characters will help children grow and learn important skills," said Jimmy Pitaro, president of Disney Interactive. "Computer science and coding literacy are vital to our children's future and we applaud Code.org for making computer science education more widely available."
This is a great way for kids to try their hand at coding with instant results and it only takes an hour. Try "Artist with Anna & Elsa" now, at Code Studio: code.org/frozen