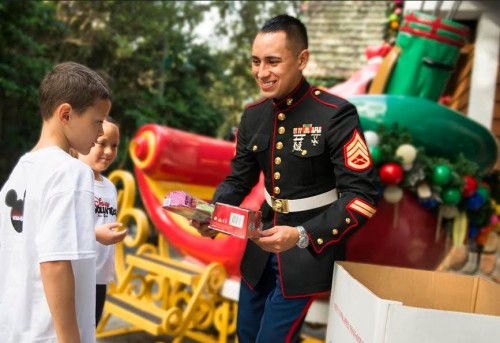 Christmas is the season of giving and Walt Disney World's cast members really know how to give. This holiday season they've already donated 36,000 new toys helping nearly 30,000 children through the annual U.S. Marine Corps Reserve Toys for Tots program. Disney VoluntEARS recently transformed an empty warehouse into a merry toy land as they unloaded truckloads of Toys for Tots donations.
The new toys, games, books and plush dolls will help spread the spirit of the season to thousands of children throughout Orange and Seminole counties. In addition to bringing holiday cheer, the gifts have inspired Disney Cast Members and their families to remember kids of all ages on their holiday shopping lists.
"Nothing makes Disney Cast Members happier than bringing a smile to a child's face," said Nancy Gidusko, director of corporate citizenship for Walt Disney World Resort. "With these gifts, we're sharing the fun of the season and sending a message of hope to children in our community
Besides adding "Toys for Tots" to their shopping lists, Disney VoluntEARS also provided more than 6,000 hours to help representatives of the U.S. Marine Corps organize the toys and sort the donations. This year, the U.S. Marine Corps Reserve registered nearly 30,000 children to receive holiday gifts. During a special Family Disney VoluntEAR day, Cast Members shared this volunteer opportunity with family and friends, hoping to inspire the next generation to give back to the community.
"In Central Florida and communities across the country, the U.S. Marine Corps Reserve is working to bring the joy of the holidays to the kids who need it most," said Sargent Jose Rodriguez. "Thanks to donations from Disney VoluntEARS, we're able to ensure that thousands of children in our community have at least one new present to brighten their holiday season."
Donations from Walt Disney World Resort and Cast Members help carry on a tradition that began more than 60 years ago, when Walt Disney and his animators designed the original Toys for Tots logo that is still used today. As a company with 74,000 Disney Cast Members who live and work in Central Florida, Walt Disney World Resort focuses focusing its approach to charitable giving on children, as a way to invest in the future of Central Florida.