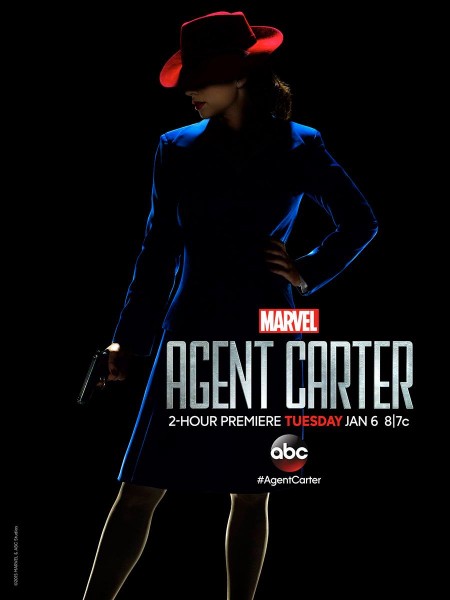 This new Agent Carter poster from ABC has a film noir flair reminiscent of classic Hollywood, which makes since since the show is set in 1940s America. Haley Atwell reprises her role of Agent Peggy Carter from the Marvel Cinematic Universe. Also reprising his role will be Dominic Cooper as Howard Stark (aka Tony Stark's dad).
From what I've read of the plot, it will have spy and thriller elements to rival a good Film Noir. It actually reminds me a bit of that TV Wonder Woman with Lynda Carter, just without the red white and blue tights. I wouldn't be surprised if there wasn't an invisible jet though.
When old acquaintance Howard Stark finds himself being framed for unleashing his deadliest weapons to anyone willing to pony up the cash, he contacts Peggy — the only person he can trust — to track down those responsible, dispose of the weapons and clear his name. He empowers his butler, Edwin Jarvis, to be at her beck and call when needed to help assist her as she investigates and tracks down those responsible for selling these weapons of mass destruction. If caught going on these secret missions for Stark, Peggy could be targeted as a traitor and spend the rest of her days in prison – or worse.
The two-hour premiere of Agent Carter airs Tuesday, January 6 at 8 p.m. ET on ABC.