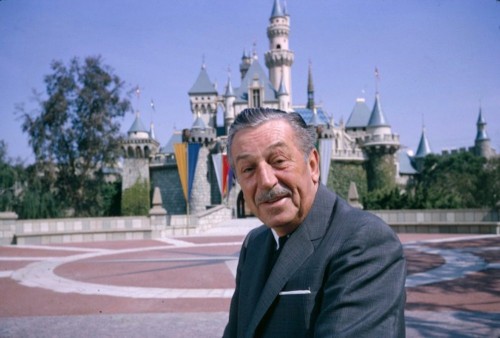 On this day in 1901, one of the world's modern geniuses was born. Repeatedly throughout his life, he took a new field (animation, television, theme parks, etc) and innovated in this space until he was the unquestioned leader in that field. Walter Elias Disney came to Hollywood with just a few dollars in his pocket and co-founded a company with his name. In the 91 years since then, his name has become synonymous with quality family entertainment. Enriching the lives of billions of people around the globe.
There have been attempts to canonize him and villainize him. Neither extreme encompasses everything that the man represents to fans around the world. Walt was a man like anyone else.
Others have opined extensively about his life and meaning. I recommend reading "Walt Disney: An American Original" by Bob Thomas, "The Animated Man: The Life of Walt Disney" by Michael Barrier, and despite its flaws (Walt's daughter Diane Disney Miller decried it), Neal Gabler's "Walt Disney" is worth reading when you place it in its correct context along other biographies.
Without Walt Disney many of the things I love and enjoy wouldn't exist. Mickey Mouse, Disneyland, Fantasia, etc. I would not have met my wife (we met at a Disneyland event) or started this blog, or gotten to know all the amazing Disney fans that I've come to call friends over the years. All that's left now is to say is Happy Birthday Walt. Thank you.