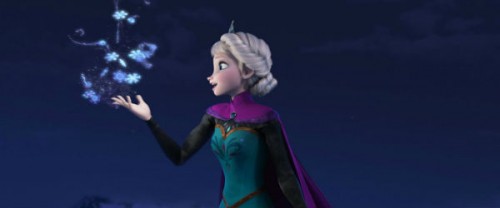 She's the Queen that sold over 3 million dresses and countless dolls. While there's no official number for how much Frozen merchandise Elsa & Anna have moved in the year since it opened in theaters, it's a safe bet that Disney is pretty happy with the number. Therefore, it does not strain credibility at all to think that a sequel would be in the offing.
Idina Menzel, voice of Elsa, recently let slip that a sequel to Frozen is in the works. Surprise! It could be early, early stages, or it could be fast tracked for that November 2018 'untitled' slot.
There has been an animated short that was already announced, so it's possible that Menzel was talking about that. Disney CEO Bob Iger also mentioned that a stage adaption is in the works. In fact, from theme park attractions to ABC television shows, Frozen has been appearing everywhere.
For some, having Frozen everywhere is getting to be overkill, but I think back to earlier Disney films, heck Mickey Mouse himself, and Disney is just following the template it built itself for building a successful brand. That, more than anything, tells me we're getting a sequel. The only question is will it be direct to video or a theatrical release.
What's your guess?