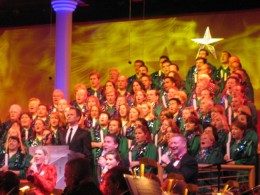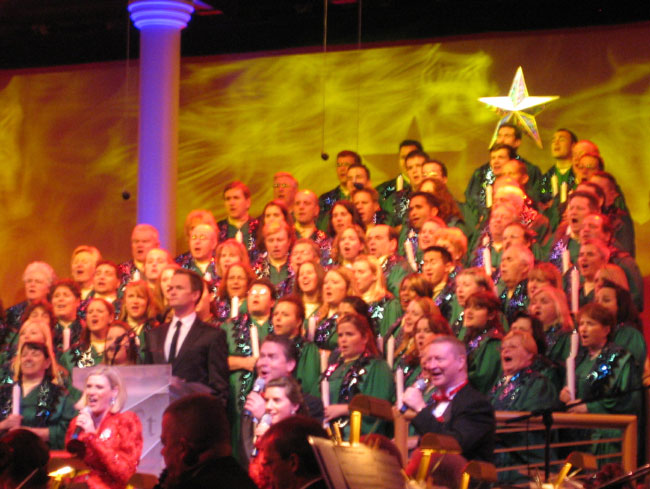 In just a few days, one of Disney's oldest and most cherished holiday traditions will return to EPCOT in the Candlelight Processional. The show involves the retelling of the Christmas story by a celebrity narrator accompanied on stage by a 50-piece orchestra, and a glorious mass choir including the famous living Christmas Tree composed of the volunteer Cast Member choir.
Among new celebrity narrators this year is Jonathan Groff, who voiced the rugged mountain man Kristoff in "Frozen," and Ana Gasteyer, SNL alum and from ABC's Suburgatory and The Goldbergs. Of the current group, I've heard Neil Patrick Harris and Edward James Olmos perform and would recommend either. However, I don't think you can go wrong any night this year.
Candlelight performances are at 5, 6:45 and 8:15 p.m. at America Gardens Theatre. (Show times on December 7 are 6:45 and 8:15 p.m. only)
11/28 – 11/29: Jodi Benson
11/30 – 12/2: 
Neil Patrick Harris
12/3 – 12/4: 
Jonathan Groff NEW!
12/5 – 12/6: Whoopi Goldberg
12/7* – 12/9: LeVar Burton
12/10 – 12/11: Edward James Olmos
12/12 – 12/14: Joe Morton NEW!
12/15 – 12/17: Chita Rivera
12/18 – 12/20: Ana Gasteyer NEW!
12/21 – 12/23: Marlee Matlin
12/24 – 12/25: Isabella Rossellini
12/26 – 12/27: Blair Underwood
12/28 – 12/30: Steven Curtis Chapman
Please note that narrators are subject to change without notice.
Guests may purchase Candlelight Dining Packages to reserve a seat at the Candlelight Processional. These packages, available on select nights, include a delicious meal, a guaranteed seat for one of the Candlelight Processional performances and a pre-arranged location for fireworks viewing.
Do you have plans to attend the Candlelight Processional this year? If so, which narrator are you planning to see?