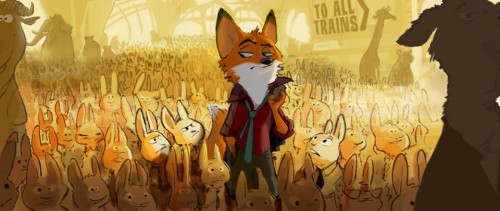 Walt Disney Animation Studios has been on a steady pace of releasing one animated feature a year since "Meet the Robinsons" in 2007. However, due to a quirk in the production schedule at Pixar, you'll have to wait two years to get your next Disney Animation fix after Baymax and "Big Hero 6."
Pixar has two movies lined up for 2015, "Inside Out" and "The Good Dinosaur," while WDAS will release two animated features in 2016, "Zootopia" and "Moana." We now know what release dates those films will have as well.
"Zootopia," which features a fast-talking fox who partners with a straight laced bunny cop to clear his name, will open domestically on March 4, 2016. The second film of the year, "Moana," an animated musical, will feature Disney's first Polynesian princess and will entertain holiday crowds with a November 23, 2016 opening.
Disney animation will then hand off back to Pixar for two films in 2017 – "Finding Dory" (if it stays on schedule) and "Toy Story 4."
Which if these films do you think has the best chance of success at the box office?
Previously: 2015 Disney films release date list.