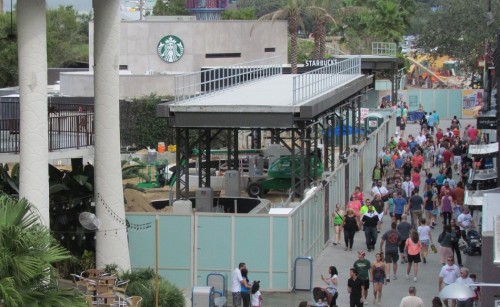 Here's our latest look at the progress on converting Downtown Disney into Disney Springs. Lots of work going on near the Marketplace, the area of Pleasure Island that will become "The Landing," and even on the Westside. The Parking garage looks good and the special pedestrian bridges are starting to take shape too. The only hitch for the parking garage is whether Disney can get final approval from the state to build the I-4 off-ramp that leads directly into the garage.
A few new 'stores' have been set up near Fulton's Crabhouse. Looks like a way for a few concepts to get introduced to Downtown Disney crowds without a full store. If these work, they'll probably move to one of the new shopping districts in The Landing or Disney Springs.
I have not idea why the volcano is undergoing construction again, considering it just opened earlier this year. But the rest of the construction has really started to move toward the final phases.
Below the jump, I've added a photo gallery with some highlights and a few details that didn't make it into the video:
Thanks for joining us on this Update. Next time we hope to have a few more announcements of stores and restaurants coming to Disney Springs.