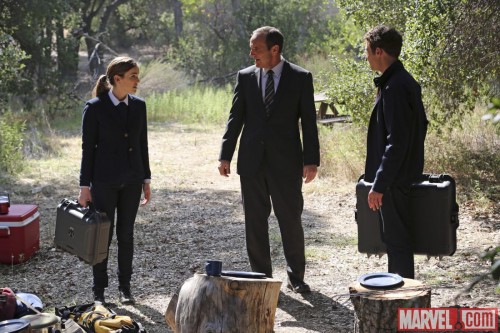 Believe it or not, we're less than a month away from the debut of Season 2 of Marvel's Agents of SHIELD. When we last left the gang Agent Coulson had assembled, they were dealing with the fallout of Hydra's infiltration of SHIELD and the betrayal from one of their own.
Season 2 will see Coulson and team focused on rebuilding a new SHIELD while dealing with Hydra and that means new cast members joining the show. We know that Lucy Lawless will join as Agent Isabelle Hartley. We also learned that Henry Simmons (no relation to Jemma) will play Alphonso "Mack" Mackenzie, Brian Patrick Wade is Absorbing Man Carl "Crusher" Creel and Adrianne Palicki will join as Bobbi Morse, aka Mockingbird. Finally, Kyle MacLachlan has signed to play the critical role of Skye's father.
Here's a special preview of season 2:
I like the emphasis on saving lives of others "even when they don't know it." Making SHIELD more clandestine will go a long way to adding some needed complexity to the story lines.
For me the big question that needs to be answered this season is can Brett Dalton's Agent Ward be redeemed? What do you think?
Will you be tuning in on Tuesday, September 23, 9:00pm?