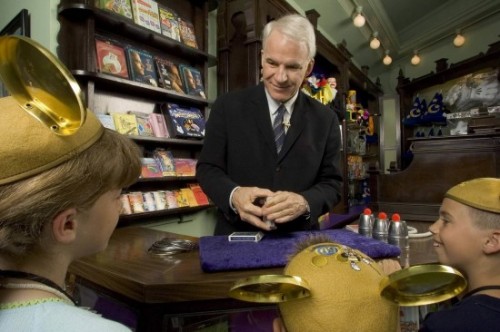 As a teenager living in Anaheim, Steve Martin worked at Disneyland first selling guidebooks, then later as a clerk in the Fantasyland magic shop (and, yes, the Main Street shop too). He used to hang out at the Golden Horseshoe Revue and learned about balloon animals and comedy from two of its masters – Fulton Burley and Wally Boag.
There's no way to quickly sum up his career, so I'm not going to. Let's just say that after establishing his bona fides via standup comedy, Saturday Night Live, and a host of movies, Martin returned to the house of mouse to film the two Father of the Brides movies for Touchstone Pictures, the first in 1991 and the second in 1995. In 2000 he introduced a segment in "Fantasia 2000" and then 2003, he filmed "Bringing Down the House" with Queen Latifah, again for Touchstone Pictures. In 2005, Touchstone released the charming film "ShopGirl" based on Martin's Novella of the same name and Martin helped Disneyland usher in 50 years with a part hosting a movie in the lobby of Great Moments with Mr. Lincoln. Unless I'm missing something, that's the relationship of Martin and Disney up until now.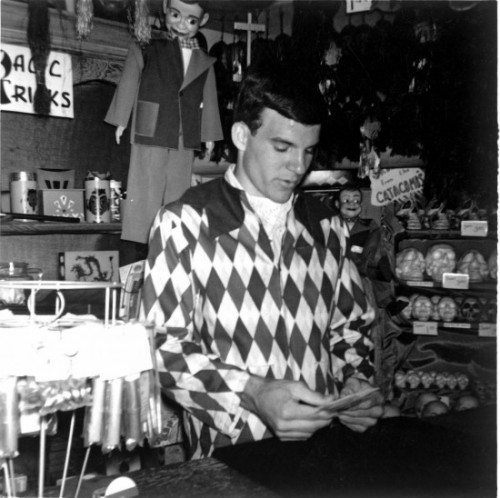 Over the weekend we learned from The Hollywood Reporter that Steve Martin has co-written and will star in a new film for Disney called "Magic Camp."
"The story tells of a straitlaced banker who returns to Magic Camp, which he attended as a shy child. This time he is a counselor who makes it his mission to improve the lives of all the kids while keeping an eye on his ultimate prize, the top spot at the Golden Wand competition."
No date for production to begin has been announced. But it will be great to have another film from Martin in the Disney family. Back where he belongs, if you ask me.
I happen to have an idea for his next film for Disney. He can play a down on his luck bluegrass banjo player, who stumbles on a band of "Country Bears" and asks them to help him save the camp he went to as a child. In the end the camp is saved and the Bears get a new lease on life. What do you think?