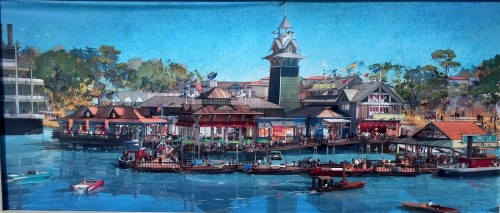 Walt Disney Imagineering Executive Creative Director Theron Skees is out with the first video giving guests a greater insight into the story behind Disney Springs. Disney Springs will unite the existing Downtown Disney area under one-project backstory with multiple themed locations. The Landing is the first of those areas and it will open in 2015.
I love the use of pre-viz to help you get a feel for the architecture of the finished project.
Downtown Disney has been a part of Walt Disney World for 40 years (even earlier if you count the preview center that is now the Amateur Athletics Association building). It looks like this new project will respect that history and root the project firmly in the environment and history of Central Florida as well.
What do you think of the backstory as explained by Skees?
Stay tuned for an photo and video update of the construction that's taking place all over Downtown Disney as it adds two new parking garages, and plenty of new shops and dining experiences as part of Disney Springs.