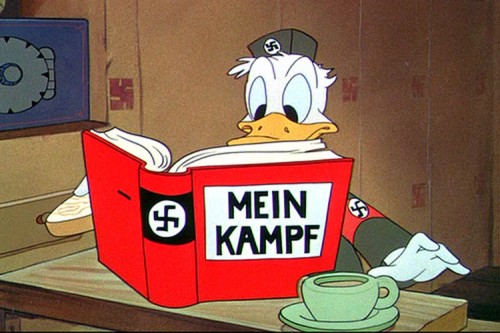 The Walt Disney Studios had a rough time during World War 2, not just because Walt Disney felt it was his patriotic duty to help the war effort (usually at the expense of his bottom line) but also because so many of the artists he employed had joined the war effort on their one in one way or another. But the studio did continue to produce some animation during the time. Mostly propaganda pieces but also a few that were destined to become classics.
If I had to choose one of the animated shorts to represent that era, really an impossible task, I'd select "Der Fuehrer's Face." Originally titled Donald Duck in Nutzi Land, it was produced in 1942 by Walt Disney Productions and released in 1943 by RKO Radio Pictures.
The song Der Fuehrer's Face was written by Disney Studio's Oliver Wallace, and had been released earlier in a wonderful wacky rendition by Spike Jones (listen here). The animated short itself, won an Oscar at the Academy Awards, the only Donald Duck short to have that honor.
Ultimately, the Walt Disney Studios decided to hide this short for many years because of its depiction of the Nazi swastika and the connection to Donald Duck. But they finally relented in 2004 and included it on a DVD of Disney Treasures focused on WWII.
What is your favorite piece of World War 2 era Disney animation?