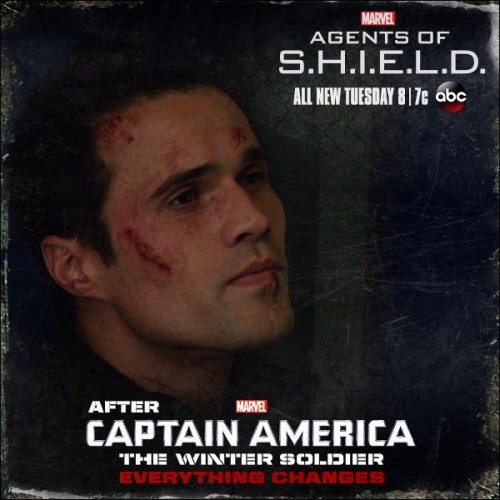 If no one has told you, Marvel's Agents of SHIELD on ABC has gotten really good in the last few episodes. It seemed to start slow because they focused a lot of getting the audience emotionally involved in the core set of characters. Now that they have us hooked, they can and did turn the world of those we care for upside down.
I was going to write a long recap of last night's Marvel's Agents of SHIELD on ABC, but Marvel has released this video of the cast reacting to the events of the show, and the changes that resulted to their universe in "Captain America: The Winter Soldier." So, why not let the actors speak for themselves and their characters:
If you watched last night, what did you think about the episode? Were you surprised by the twists?
Knowing that Joss Whedon had some influence on the story arc of the season, I was on alert for any whedon-isms, but even then I was a bit shocked by the final revelation about Agent Ward. But on retrospect, it made the most sense.
If you haven't seen Captain America: The Winter soldier yet, buy tickets right now and go. If you missed the last few Agents of SHIELD episodes, you can watch them online on ABC.com.