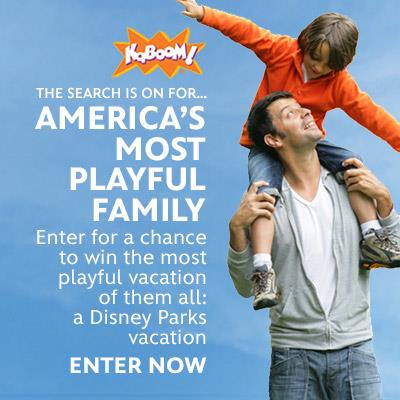 Some of our favorite and most cherished childhood (and adulthood) memories are related to visiting the Disney parks with our families. Disneyland and Walt Disney World's heritages are built on wonderful and memorable family experiences, and to help continue those legacies Disney is supporting KaBOOM!'s contest called America's Most Playful Family.
The intent of the contest is to encourage families to spend more quality time together actively playing and creating lasting memories, so KaBOOM! is asking families of all shapes and sizes to enter the contest by submitting photos or videos of how they play. Whether your family likes to hike, swim, play sports, or simply jump around in the backyard, KaBOOM! wants to see it.
There are more than 1,000 prizes to win, with the grand prize being a trip for four to either Disneyland or Walt Disney World. Entries will be accepted until March 16th, so head on over to KaBOOM!'s website to enter and show how playful your family is.
Will you be entering?