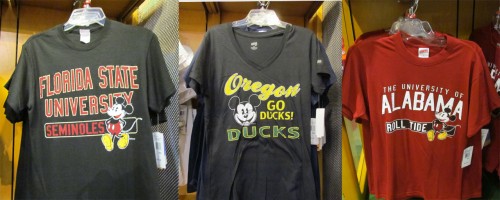 As a sports fan, Team Mickey in the Downtown Disney Marketplace is always on my must visit list when that credit card is burning a hole in my wallet. If you have a sports fan in your family, you can probably find a gift that will bridge the gap between the Disney fans in your family and the game they're missing because you're at the Magic Kingdom.
Although I wasn't a huge college sports fan before moving to Florida, it's apparently part of the bylaws of living in the south that you have to pick a school to root for. Mickey Mouse, of course, can't play favorites, so fans of the top teams can find a shirt for their school that also features the famous mouse.
Above are the 2013 versions of the top three teams in NCAA football at the moment. Let us know in the comments which of these three teams you think will win the BCS title in the final year of its current format.