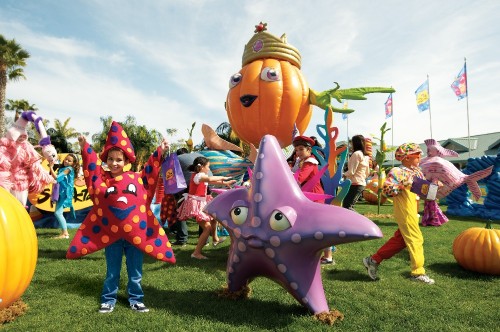 Only one of the big three parks in Orlando offers a Halloween party that's free with the price of admission. The family friendly Halloween Spooktacular is full of spooky fun. During this daytime event, families will be immersed in an underwater "fantasea" filled with trick-or-treating, dancing with sea fairies and pumpkin fish and sea-themed arts and crafts. My family and I enjoy the party-like atmosphere as much as the bigger pay events at the other parks in town.
SeaWorld's Halloween Spooktacular takes place weekends in October: 5-6, 12-13, 19-20 and 26-27, from 12 to 8 p.m., leaving the littlest of trick-or-treaters wide-eyed for all of the fun-filled activities. When you're there, make sure you take advantage of this social media promotion, you could end up with some cool VIP treats.
Spooktacular Highlights below the jump:
NEW this year: Spooktacular Dance Party
Princess Penelope and her undersea friends invite guests to join the Spooktacular Dance Party, where children can dance along to a Spooktacular mix of line-dancing favorites as clouds of bubbles fill the evening air. The party will kick off at the front of the park every event night an hour before SeaWorld's park closing time.
Waves of Trick-or-Treat Fun
Offering more than two million pieces of sweet treats, costumed youngsters can trick-or-treat "under the sea." Each trick-or-treat station features an assortment of ghoulish goodies including Tootsie Roll, Jelly Belly jelly beans, Airheads and other candy favorites.
Penelope's Party Zone
Located at SeaWorld's Bayside area, this dynamic underwater environment comes to life each day with a live DJ, a variety of interactive crafts to choose from, countless bubbles floating overhead and colorful pumpkin fish gliding around!
Sweet Treat Decorating
Kids and parents alike can have a "splash" creating their own sweet treats at the cookie decorating station. Kids will be able to decorate and devour their spooky cookie when they purchase a kit that comes equipped with a cookie, frosting and toppings.
Jelly Belly® Bean Art to Come to Life at Spooktacular
Jelly Belly artist in residence, Kristen Cumings, will use more than 10,000 Jelly Belly jelly beans to create a portrait of rockhopper penguins, reflecting SeaWorld's all-new, Antarctica: Empire of the Penguin. Guests can watch as this handmade jelly bean creation comes together in front of their eyes during the final weekend of Halloween Spooktacular, Oct. 26 and 27. Kids can join in the fun too, with the opportunity to decorate a Halloween Spooktacular mural with a variety of Jelly Belly jelly beans.