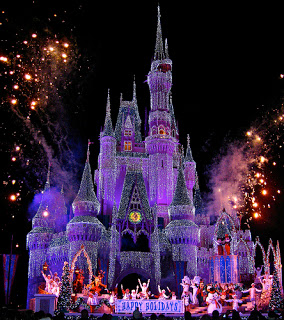 It's party season–starting next week in the Magic Kingdom, you can attend Mickey's Not So Scary Halloween Party and then in November, you can celebrate the holidays at Mickey's Very Merry Christmas Party.  Both are special ticketed events, which means that you'll pay around $65 per person most nights just to attend the party. The good news is, you don't need a regular park ticket that day and while your admission ticket says that entry begins at 7:00, Disney has always allowed guests to enter the park at 4:00.  You're then welcome to enjoy the festivities until midnight.
What will you see at these parties? Well, both have fantastic parades and special fireworks, as well as dance parties and character meet and greets with more obscure characters like Snow White and the Seven Dwarfs or Belle in her Christmas costume.  At the Halloween party, everyone is welcome to trick or treat and it's your one chance as a grown up to dress up in costume, so if being a princess has always been your dream, this is your time.  While Disney doesn't release exact numbers, the party is rumored to be capped at 25,000, so this means that you'll walk onto a lot of rides, particularly after the fireworks when parents start to take little ones home. Even better, most nights the parties don't sell out, so you never really have to worry about crowds. It's also a good way to enjoy the parks at night during a time of year when they don't stay open as late.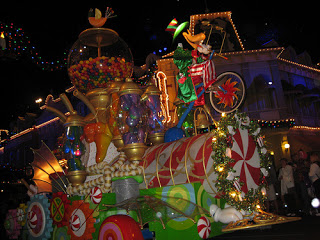 So is it a good deal?  No question these parties are fun and you'll see some very creative, unique things there that you won't see anyplace else. Still, I tend to not recommend the parties to families with young children because they can't stay up late.  I also think that if you're on a budget, you should skip the parties. That's really the most simple advice I can give. I'd rather see a family spend the $200 plus that they would spend on a few hours entertainment on a park hopper instead, which can give them a ton of flexibility (and more park hours), or go out for a nice dinner. Yes, the parties are great, but don't stretch your budget to attend. Your daily park ticket gives you more entertainment than you can possibly enjoy in one day.
What's your take on the holiday parties? Have you ever been and if so, did you think it was worth it?  I'd love to hear about it in the comments below.