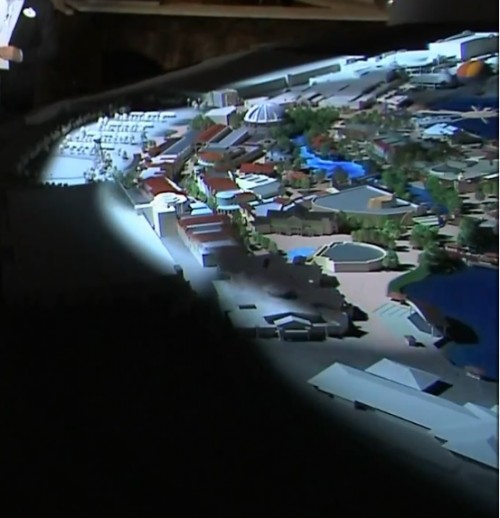 The first signs of serious construction on the announced Disney Springs makeover of Downtown Disney has begun. Disney recently announced a plan for the limited parking the construction is expected to create and now video of Pleasure Island's Comedy Warehouse being dismantled was aired on CFNews13. This will eventually become the 'Waterfront' area of Disney Springs.
Disney says that by utilizing the parking lots past Cirque Du Soliel's La Nouba on the Westside, they can handle the average day at Downtown Disney when it comes to parking. But, when Downtown Disney gets busy, there will be parking across the street with shuttles running and a walking option if you so choose. My favorite place to park, by Planet Hollywood is now closed, so I'm probably changing my strategy to just parking as close to La Nouba as I can and allowing a little extra walking time to get to my destination. It would be nice if they had shuttles running from Westside to the Marketplace during construction, but I haven't seen anything announced regarding that.
Finally, there was a rumor of the Disney Springs being reduced a bit (or perhaps extended to occur over more years). Imagineering's Kathy Mangum, was brought over to supervise Disney Springs has also had the WDI oversight for Disney's Hollywood Studios and EPCOT added to her portfolio. Since the rumor of the smaller Disney Springs would see that unspent budget reallocated to fixing DHS (perhaps adding elements of Cars Land or another Pixar attraction in addition to the rumored Star Wars land). This shuffle would fit in well with that theory. What do you think? Just dreaming or a sign that Walt Disney World will finally see some much needed changes to its attraction lineup?