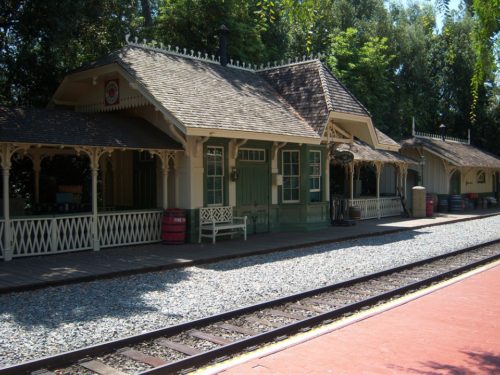 I lived in Southern California for 11 years visiting Disneyland frequently. I knew that the train station in Frontierland had a telegraph version of Walt Disney's words used to dedicate the park. I also knew that it was not morse code, but a variant used by train telegraphers. But what I didn't know was that the recording I was listening to was damaged and therefore incomplete.
However, if I had been a HAM operator with curiosity like George Eldridge I would have heard that something was wrong. What Eldridge did next is a great story of how one fan helped make the magic better;
I called Disneyland and asked to speak with someone about the damaged message. I was afraid that I might get a brush-off, but the Disney staffers were courteous and did their best to locate someone who could help me. When it became clear that no one at Disneyland could help me, they referred me to the WED studios [sic] in Burbank.
Read the rest of the story on reprinted here.
"TO ALL WHO COME TO DISNEYLAND, WELCOME. HERE AGE RELIVES FOND MEMORIES OF THE PAST, AND HERE YOUTH MAY SAVOR THE CHALLENGE AND PROMISE OF THE FUTURE." in Morse code is: – — / .- .-.. .-.. / .– …. — / -.-. — — . / – — / -.. .. … -. . -.– .-.. .- -. -.. –..– / .– . .-.. -.-. — — . .-.-.- / …. . .-. . / .- –. . / .-. . .-.. .. …- . … / ..-. — -. -.. / — . — — .-. .. . … / — ..-. / – …. . / .–. .- … – –..– / .- -. -.. / …. . .-. . / -.– — ..- – …. / — .- -.– / … .- …- — .-. / – …. . / -.-. …. .- .-.. .-.. . -. –. . / .- -. -.. / .–. .-. — — .. … . / — ..-. / – …. . / ..-. ..- – ..- .-. . .-.-.-
(Photo via LorenJavier – Creative Commons)